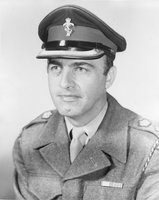 Donald Gordon Lordly
Born April 4, 1932 in Saint John, New Brunswick, passed away peacefully at home in Halifax surrounded by his loved ones on March 20, 2018. Donald was the son of the late Gordon H. and Lillian (Major) Lordly.
A lifelong member of the Boy Scouts Association, Don was a King Scout, a Scouter and a founding member and past Guild Master of the 12th Canadian Baden-Powell Guild. He was a graduate of Acadia University and Nova Scotia Technical College (Dal Tech), Bachelor of Engineering '55 (Mechanical). Don served 20 years in the Reserves with the Royal Canadian Electrical and Mechanical Engineers, OC 20 Tech Sqn RCEME and Commanding Officer Halifax Service Battalion retiring in rank of Lieutenant Colonel. Beginning his engineering career with a fellowship in England, he was joined there by Betty as soon as she finished nursing school. They married in Gravesend, Kent before returning to settle down in life in Halifax. He worked as Manager of Mechanical Engineer and Technical Services, Nova Scotia Light and Power Limited and Nova Scotia Power Corporation until retirement in 1991and was a life member of the Association of Professional Engineers of Nova Scotia. His role in the construction and management of Tufts Cove Generating Station included trips to Japan, where he established lifelong friends. Don served as National President Land Ordinance Engineering Association (LOREA-EMEA) and was a charter member and past president of the Halifax-Dartmouth Branch of the United Empire Loyalists' Association of Canada. A long time member of St. Paul's Anglican Church, Halifax (Church Warden, Treasurer, Archives), he also acted as director and past chairman of the Old Burying Ground Foundation. Don's passion was music, playing trumpet throughout his life. He was a founding member of the Halifax Concert Band, performing with them for over 40 seasons. CBC Radio 2 played regularly in the family household. He loved canoeing and sailing "Hobbit", his Drascombe Lugger, out of Mackeral Cove in St. Margaret's Bay. He had a keen interest in history, photography and carpentry. Don and Betty traveled extensively enjoying many cycling tour and adventures throughout Europe and other parts of North America. 'D' was a genuine and gentle soul, caring husband, father and grandfather. He will be dearly missed by all in his family and many good friends. He lives on forever in the hearts and memories of his wife, Betty (Gustavsen); sons, Michael (Takako), Andru (Judith), Preben, Matthew; grandsons Kai and Tuskar. He was predeceased by sister, Barbara (Saint John, NB).
Arrangements are under the care of J. Albert Walker Funeral Home (2005) Ltd. A funeral service will be held St. Paul's Anglican Church on Thursday April 26th at 10am. Donations may be made to the oldburyingground.ca or a charity of your choice.
The Lordly family would like to extend a special thanks to the VON and QEII palliative staff for their kind and compassionate support.