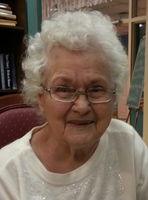 Nalda Constantine Baillie (Fleet)
BAILLIE, (Fleet) Nalda Constantine 'Nanny Num Num' – Spryfield. It is with great sadness
that we announce the passing of Nalda (Fleet) Baillie on Wednesday, November 29, 2017,
surrounded by family at Melville Lodge. She was the daughter of the late Sidney and Daisy
(Hart) Fleet and sister to the late Colin Fleet.
Nalda loved spending time with her family, enjoyed a good book, solving crossword puzzles,
knitting, playing cards and loved to laugh. She will be missed by all who knew and loved her.
She was a loving mother to Jackie (Darrell) Banfield, Teddy (Thelma), Skippy (Ella), Dennis
and the late Bobby (Linda), all with whom she shared with former spouse, John Baillie; 16
grandchildren; 24 great grandchildren; 3 great-great grandchildren.
The family would like to thank the staff and her many friends at Melville Lodge for their
kindness over the past 8 years.
Arrangements are under the care of J. Albert Walker Funeral Home (2005) Ltd. A Service of
Remembrance will be held on Monday, December 4 at 11 a.m. in the Melville Lodge Chapel,
followed by a reception.