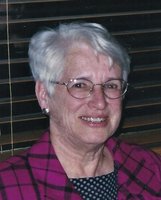 Shirley May Goulden
86, Spryfield. It is with profound sadness and heavy hearts that we announce the passing of our beloved mom, 'Nan', and mom-in-law; Shirley May Goulden, after a long courageous battle with ALS.
Shirley is survived by her sons, Terry (Maria), Glenn (Marlene); cherished granddaughters, Melissa (Corey) Murphy, and Stacey (partner Burnell Lyons); great-grandsons, Ethan, Connor, and Owen Murphy; sister, Elizabeth "Betty" Slate. Shirley was predeceased by her husband of 39 years, Russell Goulden; parents, George and Muriel (Yeadon) Burton, and her sister, Barb McNamara. She was also predeceased by her long-time companion, Weldon Whyot. Shirley is also survived by Weldon's family whom she loved as her own, Tim (Lorraine) Whynot, Kevin (Leslie) Whynot and Weldon's grandchildren, Kate, Mylene, Bridget, and Thomas.
We'd like to extend a warm heartfelt thank-you of gratitude to the wonderful staff of the first floor at Northwood Centre and the staff on the third floor of Northwood Manor for the exceptional care of mom, especially during her final days. We'd also like to thank the ALS Society of Nova Scotia for your tremendous help of knowledge and resources.
A church service in her honor will be held at St. Paul's United Church, Old Sambro Road in Spryfield on Saturday, December 30 at 11:00 am. A celebration of life will follow in the church hall. In lieu of flowers we ask if it is your wish to make a small contribution in mom's name to the ALS Society of Nova Scotia or Alzheimer Society of Nova Scotia. Thank you.