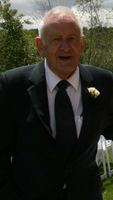 Joseph Randolph "Joe" Little
It is with deep and heavy sadness that we announce the passing of Joseph Randolph Little on December 24, 2017 at the Dartmouth General Hospital. Joe was born in Terence Bay in their family home on June 22, 1938. He was a son of the late Patrick "Dos" and Gladys.
Joe lived Terence Bay most of his life and spent time swimming, playing baseball, singing, dancing, fishing, attending horseraces, and going to movies. He loved his cars, his Dodge Dart was his favorite, he owned a few. In his younger days he was the local taxi in his little fishing village. His eldest daughter Patricia enjoyed riding shot gun with him, listening to old country music turned up loud while they sang along to every tune, especially Charlie Pride, which Joe could sing exactly like him. Joe spent many kitchen parties entertaining friends with his great voice. He was a humble man who never bragged about his talents. He was quiet, funny, and full of love. Joe was married to Joan Little for 23 years. They parted ways by divorce 21years ago, but remained friends.
Joe was close to his friend, Garnet Slaunwhite, who predeceased him. They loved to attend horse races together. He was also close to friend Kenny Harrie, they loved to hang around and have fun together. His best friend was Harold Norris, his sister, Onie's husband. They hung around with each other out on Harold's boat fishing, and spent a lot of time playing cards with their wives and kids. They talked on the phone every day nearly, even though both were hard of hearing in their later years. It was comical listening to them, they would yell back and forth trying to communicate. Joe thought of Harold as a father, and Joes daughters think of him as their Gramps. His daughters were blessed to learn many lessons from him during his 79 years; he said yes, to nearly everything he was asked. Whenever he was asked how he was doing, he would respond good Hun, or I am alright honey. He never complained or made a fuss about himself. Kids are to be seen and not heard. One big lesson was, if you do not listen, you will feel.
Joe is survived and deeply loved by his daughters, Patricia (Bradley) and Kelly (Brian, Darren); grandchildren, Justin (Felicia), Colten (Destiny), Corey (Rebecca), Codey (Jessica), Courtney (Kelly), Kaitlen (Dustin) and Jami-Lea; great grandchildren, Austin, Jaze, Lucy, Alia, Abbey and Floyd; brothers; Jim (Shirley), Wayne (Doreen), Patrick( Madeline), Steven, Ralph and Dennis "Dent"; sisters, Geraldine (George) and Valerie "Whoop"; many nieces, nephews and other relatives. Joe was part of a very large family. He was predeceased by brother, Gary Wayne, who died in infancy; sisters, Leona "Onie" and Patsy Pauline, who died in infancy.
Joe was well liked by all who knew him, and cared for him. A special thanks to Precision Health Staff who he lived with for many years before his passing. Before that Joe lived at Salvation Army on Gottington St. Halifax for several years. Joe received treatment for his illness in his 20s, 30s, and 40s. After which he was able to stabilize his illness and live well.
Please join Joe's family and friends for a memorial service on March 3, 2018 at 11a.m. at St. Paul's Church, 180 Sandy Cove Road, Terence Bay; Rev. Cheryl Rafuse officiating. A reception will take place following the service at the Terence Bay Fire Hall, 80 Sandy Cove Road, Terence Bay. Family Flowers only. Donations can be given to Joe's daughter, Patricia by visiting https://www.gofundme.com/help-trish-go-home-to-bury-my-daddy to help alleviate the cost of travel and services.