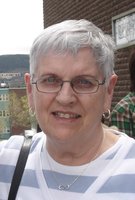 Norma Janet Gillespie
Our sixty years journey together has ended. Our lord took my dear wife, Norma on January 8, 2018. Norma was born in Montreal in 1937 to Joseph Rolfe and Irene Settle, Halifax Explosion survivors, and married Robert John Gillespie on November 4, 1957.
She was part of a large family including deceased brothers, Donald (Bev), James (Muriel), Robert and Gordon (Elsie), she was extremely close to her sisters Shirley ( Ed), Doris (Don) and Carol (Hugh). Although not living near her sisters, she enjoyed many "surprise" visits with them. Norma grew up in Montreal, Regina and moved to Halifax in 1955. She made many friends during these times and remained in contact with them throughout her life. Norma was a loving and proud mother to Janet (Brian), Lisa (deceased) and Paul. Her grandchildren, Sara (Ben), Rhonda (John), Mathew and Nathan will always treasure the memories of the annual cookie day and the fun times in Montreal. Norma was blessed with three great grandchildren, Lucas, Paige and Zoey. Norma first started work at the Motor Vehicle Safety office in 1956 where she met lifetime best friend Betty Bowdridge. She finished her working career with the Federal Government, Public Works in 1979. Norma loved to travel which included family road trips driving and camping across Canada in a VW bug which depended on her expert organizational and packing skills. She loved cruising. Family was of utmost importance to her and as a result, she along with her sisters complied a book of their family history, entitled "Rolfe a Story Worth Telling". She loved having her family around and organized many get-togethers and celebrations. There are also many wonderful memories of the time spent at the family cottage in Clam Harbour in the 70's. Norma was a proficient knitter and made sweaters for all members of her family, she especially enjoyed knitting Barbie clothes for Janet and Lisa and later Christmas stockings for everyone. She also enjoyed bowling and was a member in several leagues. She was long standing member of the CWL at Saint the John the Baptist parish. Norma led the rosary at the parish for few years. She was an active participant in the Marian gathering group as secretary. Norma was struck with Parkinson's and dementia in her later years but managed to stay home for as long as possible before going into Saint Vincent's Nursing Home last summer.
Norma's family will welcome friends and relatives at the J Albert Walker Funeral Home (2005) Ltd. 149 Herring Cove Rd. between 7-9pm on Friday, January 12, 2018. Funeral mass will be held at St. John the Baptist Church 26 Purcells Cove Road at 9:30am, Saturday, January 13, 2018 followed by a reception in the church hall, interment of her ashes will take place at the Mount Olivet cemetery on Mumford Road after the reception. In lieu of flowers, donations may be made to the Parkinson's Society.
The Gillespie family wishes to thank the caring and supportive staff on the fifth floor of Saint Vincent's Nursing Home under the leadership of clinical nurse Dennis and LPN Janet.