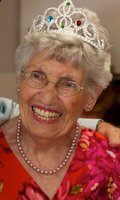 Gertrude M. Elliott Langille
A beautiful and caring soul left this earth on January 21, 2018. She died peacefully surrounded by her children at The Berkeley (Bedford). She was 95 years old, born July 9, 1922. She was the "Grand Madame of the Sampson family of the late Charles P Sampson and Agnes Burke Sampson, raised in River Bourgeois, Cape Breton, the last member of a large proud Acadian family. She was predeceased by sisters Rita Woods, Cecelia Pace, Gena Rankin, Kay Woods, Joan Viscount, Jean Richards, Patsy MacKay, brothers Arthur and Amos. She carried them in her heart till her death.
After grade 12, she moved to Halifax to work with DND during wartime and met and married her soul mate Elmer J Elliott. Together for almost 50 years, they raised 6 children,laughed a lot, sang, danced, played cards and travelled as much as they could. Their home was a refuse for a number of people over the years including relatives, friends of the family and people new to the area. Our home was their home. Mom was one of the original "supermoms". She worked outside the home in office administration until retirement in 1983, she made all our clothes, cut the extended family's hair, did beautiful paintings, a variety of crafts, was an accomplished quilter, volunteered with many organizations and church groups ,showed up at all important children activities, walked daily and had an active social life with family and friends. She should have taught time management. What mom was most noted for however, were her endless acts of random kindness, her joy and wonder of living every day, her great sense of humor, her love of children, dogs and people who were introduced to her life and her belief that all strangers were friends yet to meet. She was generous with her hugs, time, muffins and her many talents. She had an infectious smile, sparkling blue eyes and was loved by all who knew her.
She was devoted to and proud of her children, Carol Stein, (Bedford), Nancy Elliott Pike, (Bayside), Brenda Boudreau, (Bedford), Kevin Elliott, (Houston Texas), Lynn Elliott Watts, (Coquilain BC) and Barry Elliott,( Bedford). That devotion was extended to her in-laws, the late Bill Stein, George Pike, Bob Boudreau, Bernie Elliott, George Watts and Heather Singer and her grandchildren, Juanita, Leah, Jason, Justin, Kaitlin, Delaney, Andrew, Janelle, Taryn and Riley. Her 13 great grandchildren also enjoyed her love and affection.
She had an adventurous spirit and explored many places with our father Elmer and friends and later travelled extensively with her second husband Don Langille, (Halifax), in an elaborate home on wheels. Their mobile home was seen at most Atlantic sponsored rallies and traveling for years down interstate 95 on the way to new adventures. She also enjoyed a number of "girlie" trips with her daughters Carol, Nancy, Brenda and Lynn.
After the passing of her second husband Don, she resided in The Berkeley (Bedford ) where she was known as a social butterfly who loved to share her hugs and watch old movies.
She is survived by her children, Carol, Nancy, Brenda, Kevin , Lynn and Barry, her grand and great grandchildren, many nieces, nephews and extended family. She is survived and was loved by her wonderful second family by marriage, Barry Langille(Marilyn), Debbie Rees(Bernie)Paula Langille( Dugan) step grandchildren Cheryl, Danielle, Dayna and Denise.
She is predeceased by her parents, siblings, first husband Elmer Elliott, second husband Don Langille, son in law Bill Stein and her furry friends Megan and Perky.
Mom lived a full and wonderful life and shared her joy of living with everyone along her journey. In place of donations, mom would like people to share random acts of kindness, show compassion to others and make our world a better place for all.
As we age, we realize that we are indivisible from our parents. We carry them in all aspects of our life, our appearance, our shared memories, and in our hearts. Mom will always live within us.
We would like to extend a special thanks to Paula and the Berkeley staff, the Palliative Care team of the QE2, the VON Services, Home Instead Services, Northwood and especially care givers Veronica and Peggy, Dr Mullins and Father John Decoste for their care and support of mom in her final days.
Arrangements are under the care of J. Albert Walker Funeral Home (2005) Ltd., 149 Herring Cove Road, Halifax, where visitation will be held on Thursday, January 25 from 4-8 PM. Funeral Mass will be held on Friday, January 26 at 2 PM in St. Ignatius Church, Bedford, Father John Decoste as celebrant, followed by a reception in the church hall. Interment will take place at a later date.