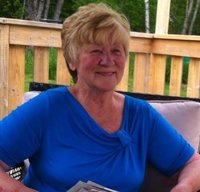 Beverly Ann Hann
We heard our mom say "this is a whole new ballgame now". Our mom did not care for baseball, as it wasn't sports she was talking about, she was talking about her plan. Our mom was sick, but not ready to leave, she was only 69.
Her name is Beverly Ann Hann (Marriott) & she is our MOM. She was the best MOM, she taught us to be kind & caring to everyone but to take no shit. Mom would give anything & everything for her family and others, & she did. mom was born & raised in Kline Heights on November 26th 1948 and very proud of it. Mom was never a follower, she always did her own thing. Our mom loved cribbage & won many tournaments. She loved nothing more than to have all of her six children and grandchildren together. Our mom liked the simple things, as her favorite flower is a daisy. Mom took pride in her appearance, & make no mistake she knew quality. Our mom was not a fake person & had no time for people who were. She was a comedian not a politician, mom made us all laugh so hard every single day. Mom would always tell us the truth even if it hurt. She held lots of titles, being a wife and mother was the most important. She met our father Robert James Hann in 1985, they married two weeks after meeting, they were a perfect match. 33 years together, 6 children, 15 grandchildren, 1 great grandchild later.
Mom was blessed by her loving husband: Robert James Hann, her children:Tina (Ronnie Misener), Sandy (Sean) Watson, Tony, Tracey (Shawn Henneberry) Hann, Troy Hann, Amanda (Kyle Cochrane) Hann, Grandchildren: Tad (Bing) Hudder, Taryn (Adam) Hudder, Shannon (Jesse) Hudder, Alyssa, Tiffany, Tyler, Delsyn, Hanna, Jake, Michelle, Anthony, Alicia, Kaylee, Joshua, Jonathan, Kayleigh. Sister: Marion (Stan) Gaw. Brother: Ronnie & Paul (Joanne) Marriott, many neices and nephews and her best friend Lynn MacDonald who loved her dearly. Predeceased by: Parents: Margaret & James Marriott. Sisters: Joan, Virginia & Phyllis. Brothers- Kenneth, Clyde & Walter.
Visitation will be held at J. Albert Walker Funeral Home (2005) Ltd. 149 Herring Cove Rd, Monday, January 29th from 2pm-4pm & 6pm-8pm. Funeral mass will be held Tuesday January 30th at 11 a.m. from St. John The Baptist Church 26 Purcell's Cove Rd. Interment to take place in Gate Of Heaven Cemetery Lower Sackville.