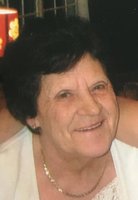 Elizabeth Rose "Betty" Caines
It is with great sadness that we announce the passing of Betty Caines, at the age 77. She passed away on January 31, 2018 at the Palliative care unit at the Victoria General Hospital with her family at her side. She was a daughter of the late Douglas Smith and Mary (Neary) Smith.
In her early years, Betty worked at Sears. She loved animals, spending time with her family, gardening and was an incredible cook. She also loved to go on long drives and took an avid interest in the world around her.
She is survived by her daughter, Kelly (Scott), Kellowna BC; sons, Darren (Nora), Sambro Head, and Darrell, Halifax; her pride and joy, her two granddaughters, Hillary and Samantha. She is also survived by her brother, Ron Smith (Noreen). She was predeceased by her husband, George; brothers, David, Butch, Les, Donnie, Lawson and Clyde; sisters, Marion, Lillian, Marg, Viola, and infant Dee Dee.
The family would like to thank all the Nurses and staff, who work in 7A Palliative Care Unit at the Victoria General Hospital, for the loving care you provided to our mother.
Funeral Service will be held on Monday, February 5 at 11 am, at Emmanuel Anglican Church, 322 Herring Cove Road, with a reception to follow. Burial will be held at a later date. In lieu of flowers, please make donations to the Palliative Care Unit, VG Hospital or the Nova Scotia Society for the Prevention of Cruelty to Animals.