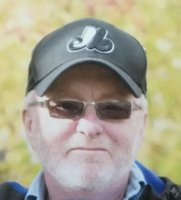 Lawrence B. "Larry" Hunt
HUNT, Lawrence "Larry" - 65, Halifax. Larry passed away on February 8th, 2018, in his home surrounded by family.
Larry spent more than two decades of his working life as a radar technician at the Halifax Dockyard. Later his work on cruise ships took him all over the world, bringing back with him many souvenirs and the stories to go with them. Most recently Larry worked at Casino Nova Scotia. Larry was an avid sports fan (Go Boston Bruins!) and would watch anything that could be classified as a sport (yes, even snooker). He loved the Beatles and a favourite pastime was trail walking with Denise and their beloved dogs, Bambi and Dagger. Larry was a sweet, kind soul with a good sense of humour. He will be sorely missed.
Larry is survived by his mother, Mary Bridget "Betty" Hunt, as well as his loving partner, Denise Miller; son, Shawn (Beth) Hunt and granddaughters, Martha and Greta Hunt; sisters, Beverly (Michael) Devlin and Theresa (Steven) English. He was predeceased by his father, Fredrick Hunt.
Arrangements are under the care of J. Albert Walker Ltd., 149 Herring Cove Road, Halifax, where visitation will be held on Sunday, February 11 from 2-4 PM. In keeping with the family's wishes there will be no service or burial.