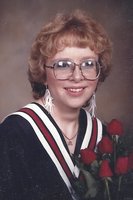 Kimberly Diane Parsons
Age 51, Bridgewater, passed away peacefully June 27, 2020 at the V.G Site, QEII. Born in Toronto, Ont., she was the daughter of the Diane (Hill), Halifax and the late Douglas Parsons.
In Kimmy's life she had many health struggles, at birth she was diagnosed with congenital deformities which caused her to spend the majority of the first five years of her life in the hospital. Through her childhood and adulthood she had many health issues such as kidney transplants and full time dialysis. Through it all she showed her strength and worked in Alberta and Nova Scotia. She had also started a family. Jordan was born in Edmonton and Joshua and Ashley in Nova Scotia. Kimmy was always active with her children and encouraged them in their involvement in school and life. In her recent years her health issues had been an ongoing struggle.
She leaves behind her children, Jordan Smith, Joshua and Ashley Bona; step- children, Jessika and Marissa Pike; special aunt, Mary Wilkie, and several other aunts and uncles and numerous cousins. She was predeceased by her partner, Shawn Bona, brother, Douglas Parsons, and maternal grandparents, Herbert and Emily Hill.
Arrangements are under the care of J. Albert Walker Funeral Home (2005) Ltd. Due to Covid-19 restrictions, a Celebration of Life and interment will take place at a later date. Donations in memory may be made to the Canadian Kidney Foundation.
The family would like to extend a heartfelt thank you to the staff of Palliative Care Unit, especially to Dr's Nunn and Tan and to Desiree and to J. Albert Walker Funeral Home and Donnie Cameron for his guidance, care and compassion..