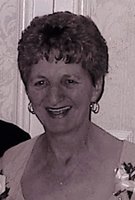 Mary Roach
ROACH, Mary Elizabeth (Chant)--Age 83. Passed peacefully on January 8, 2021 after a long struggle with Alzheimer's. Mary was a proud Spryfield girl. She lost the love of her life after nearly 50 years together, she missed Leo every day...They are together again.
Mary was predeceased by her parents John and Hilda (Hartlen) Chant, brother, John ""Popeye" and sister, Margaret. Survived by sisters, Marion "Pim" Turner (Sonny), Viola "Molly" Charlton (David) and brothers David "Lover" Chant, and William "Beazy" Chant (Donna). She is also survived by her three children, Rhea and husband Chris, who cared for her everyday, and sons, Ricky (Halifax) and Jamie (Montreal). God knows she had her hands full with those three! But loved them unconditionally and always gave her full support in everything.
Mary loved sitting down with a friend or two for a nice cup of tea. She enjoyed spending time with her family, listening to country music, playing Bingo and cards, or yard sales and shopping. Most of all, "Nan" will be remembered for her unwavering love and devotion to her grandchildren, Adam Pellerine (Angela) and Trina Miller (Kyle), and "Nanny Mary" to her great grandchildren, Isabelle, Lilly, Carter, Cooper and Blake. She also held a special place in her heart for her grandson-by-choice, Stephen Fleming (Paige) and family. She sure loved you guys...thank you.
Since COVID-19, Mary missed her many visits with her life long dear friend, Marion Cranston. They held each other up over the years and enjoyed a "brownie" or two; they had some great times together. Mom will be missed by Chris, her son-in-law, who could light up her smile right to her end...she loved him to the moon and back! Also, would like to thank Paulette Cable for many years of support to Mary and family.
Cremation has taken place under the care of J. Albert Walker Funeral Home. A Funeral Mass will be celebrated on August 13, 2021 at 11 AM from St. Michael's Catholic Church, Herring Cove Road. To attend, please contact St. Michael's Church to register due to COVID restrictions. Words of comfort may be sent to the family by visiting www.walkerfh.com