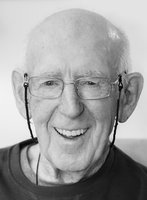 Paul Maynard Hayter
Age 86, passed away in Parkstone Enhanced Care Nursing Home, Halifax on January 23, 2021. After many years of valiantly accepting the challenges of Parkinsons Disease he is once again walking tall and strong with the Lord.
Paul is survived by his wife of 54 years, Eleanor McSorley Hayter; daughters, Kate (Christopher Smith), Alanna (Robert Morrison); grandchildren, Alexandrea, Ruby and Nathan; sister, Mildred Reid; and many beloved nieces and nephews and great nieces and nephews. He was predeceased by his parents Frank James Henry Hayter and Annie Marie (Macree) Hayter; and sisters, Elizabeth Sudsbury and Gloria Horne. Paul adored his daughters and loved passionately his grandchildren.
Baptized into the church before his marriage, Paul embraced the church and served on the St. Michaels Men's Club, Parish Council, and as a Lay Minister of the Eucharist. Through his many years in the nursing home he called especially on his wonderful close relationship with his Lord attending Mass every Sunday along with fellow residents in the Chapel at Parkstone.
A welder by trade, Paul was an employee of Day and Nite Neon Signs for a period of 20 years both travelling for sign erection and in shop in constructing signs. He loved fly fishing with brothers-in-law and nephews, hiking four plus miles into the woods. Also a very successful deer hunter.
Paul supervised a Seniors Bowling League for 20 years and was a member of the "400" club several times over. He was also an avid golfer at River Oaks Golf Club in Meighers Grant, his golf buddy, Garnet, continuing to visit him in nursing home until shortly before Christmas.
How could I forget dancing and music….no one loved his country music better and we seldom sat out a dance no matter what the music!
Paul was fortunate enough to be in "The Nursing Home that Cares!". That caring began on the day he entered there of his own free will knowing it was time for more help, right up until the day he peacefully died in a gentle sleep. There are not words to thank all of the care staff on Princess Lane Unit, Dietary Staff, Recreation Staff, the extraordinary cleaners and those in Reception. They are life enhancing to those entrusted to their care.
Arrangements are under the care of J. Albert Walker Funeral Home (2005) Ltd. Funeral Mass will be held at St. Stella Maris Church (formerly St. Michaels Church on the Herring Cove Road) on Friday, January 29, 2021, at 11:00 a.m. Due to COViD-19 restrictions, a maximum of 65 are allowed to attend, and those wishing to attend must pre-register before January 29th through www.stellamarishalifax.com and follow the online directive. Interment to take place at a later date at Pleasant Hill Cemetery.