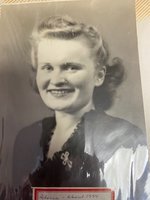 Gloria Eugenia Hilton
Age 96, Halifax. It is with heavy hearts we announce the passing of our loving and caring mother, Gloria Jean Hilton, who passed away peacefully on Friday, January 29, 2021 at the Halifax Infirmary, QEII. Born July 26, 1924 in Esterhazy, Saskatchewan, she was the daughter of the late Joseph and Margaret (Tochor) Wickie.
Mom had followed in her mother's footsteps and completed her degree as dressmaker and designer in Winnipeg, Manitoba. She then worked at an Air Force base in Ottawa near the end of WWII. Mom had originally met dad on the west coast and then travelled east where they married and started their family. Mom continued her dressmaking and had a very large clientele over the years designing and sewing many different articles of clothing. From sketching a picture of a simple blouse to complete bridal parties gowns with original wedding dresses. She took great pride in her work and was admired by many.
Mom never had idle hands. After sewing for many years she turned her free time into many sorts of crafts but her passion was with knitting. There were numerous baby outfits and blankets made but that then turned into teddy bears. For the last 10 plus years, mom has knit more than 100 bears a year for "Teddies for Tragedies". It gave her great comfort to know that these bears were able to provide comfort to children facing a traumatic event. Mom loved our many pets and her last cat Monty was her great companion. Her greatest joy came from her family. From the many family get togethers to a Sunday drive and adventure. Her life long wish was for us all to be happy.
She will be so very missed by sons, Michael (Karen), Cape Breton; Chris (Helen), Halifax; daughter, Lori (Donnie) MacLeod, Halifax; son-in-law, Pierre Nantel, Halifax; grandchildren, Marc and Pierrette (Kendall) Nantel, Cody and Jarad Hilton and John MacLeod. She is also survived by her sister, Valentina Naskar, California and many beloved nieces and nephews. She is predeceased by her loving husband of 66 years, Clyde; daughter, Ginny; brother, Joseph, Vancouver; sister, Virginnia, Halifax. Many thanks to Dr Matheson for his continued care and the nurses of 6.2 for their care and compassion.
Cremation has taken place under the care of J. Albert Walker Funeral Home (2005) Ltd. Due to Covid-19 restrictions there will be a private family service. We will be looking forward to a time in the near future to have a celebration of life with friends and family and welcome all condolences for Gloria's family by visiting her tribute page at www.walkerfh.com
"I Love you the whole wide world and the whole wide city"