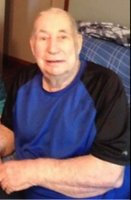 Michael Joseph "Mickey" Gale
Age 86, Halifax, formerly of Piccadilly, NL., passed away February 10, 2021 at the Saint Vincent's Nursing Home. Born in Piccadilly, NL, Michael was the son of the late Michael Sr. and Emilie Maude (Jesso) Gale.
Mickey was a kind and caring man who loved his family dearly, his family was his pride and joy. He had a strong religious faith; he read the bible in its entity several times and said the rosary daily. He was always there to help anyone and anybody. He excelled at everything he tried from getting his first million-mile crest in 1967 as a long haul truck driver to building a camper, growing a garden and raising chickens. There was nothing he wouldn't try his hand at doing.
Mickey is survived by his daughters, Elizabeth (John) Benoit, Theresa Gale (Jamie Hunt), Michelle Gale, son, Brent (Janice); grandchildren, Vanessa Benoit (Justin Byrne), Katrina (Ronald) Martin, Israel Hunt, Katlynn Kennedy (Rob Fielding), Dylan Gale, Morgan Hunt (Joseph Tuglavina), Luckus Kennedy and John-Michael Kennedy; great grandchildren, Hudson Martin and Ryder Byrne. He was predeceased by his wife, Theresa.
Mickey's family would like to give a special thank you to the staff of Saint Vincent's for their wonderful care, especially during the COVID pandemic. You went above and beyond, enabling family to Facetime him when restrictions prevented visitation.
Cremation has taken place under the care of J. Albert Walker Funeral Home (2005) Ltd. A private family celebration of Mickey's life will take place at a later date.
"I'll say a prayer for ya, my son."