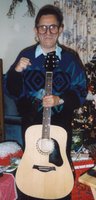 Charles George Sage
Age 79, of Halifax, passed away February 14, 2021 at St. Vincent's Nursing Home.
He is survived by his wife, Mary, Halifax; daughter, Krista, Halifax; and grand-children, Kayla Rose, Halifax, and Darcey Lee, Dartmouth; and one great-grand daughter, Nevaya Rose. He was predeceased by his father, Charles Sage Sr., and mother, Florence (Smith) Sage; also sister, Dorthy; and brother, Louis.
He was a bus driver for Metro Transit for many years, and enjoyed every minute of it. He also loved to play music, as his Dad did. Charles could always make someone smile, he loved meeting new people.
Cremation has taken place under the care of J. Albert Walker Funeral Home (2005) Ltd. No service and no visitation, at the request of the deceased. In memory of the deceased, donations may be made to the Heart and Stroke Foundation. A heart felt thank you to all the staff of the 5th floor of St. Vincent's Nursing Home, for their wonderful care of my husband.