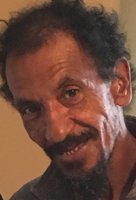 Christopher Morris
Age 63, Halifax, passed away February 25, 2021 at home. Born in Lincolnville, he is a son of Marybelle Morris and the late Charles "Goldie" Reddick.
He is survived by his partner Mona Atkins; daughters, Chastity Morris, Shawla Morris Shaylene Morris, Savannah Morris, Christina Simon and Michelle Mosey; sons, David Morris, Tico Morris, Charles Atkins, Fred Gero, Damon Douglas, Kenneth Simon and Joey McLean; brothers, Barry, Ivan, Charlie, Karl and Perry; sister, Florence; numerous grandchildren, nieces and nephews. He was predeceased by a brother David.
Arrangements are under the care of J. Albert Walker Funeral Home (2005) Ltd.