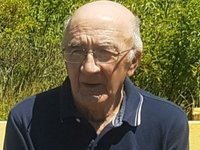 Eldon Victor Kirk
Age 78, of Sambro, passed away unexpectedly on March 26, 2021 at home. He was a son of the late Aubrey and Olga (Findley) Kirk.
Eldon is survived by his step-daughter, Angela Flemming (Peter); brother, Maynard (Helen); grandchildren, Jacob and Issac; and many nieces and nephews. He is predeceased by his wife, Margaret Rose; brothers, Winston and Arnold; and sister, Hazel.
He worked for the Department of Transportation for thirty years where he made many lifelong friendships. He loved fishing, hunting, camping at Ragged Lake, bird watching, hockey- his favorite team being the Boston Bruins, he loved his history and true story books, and he enjoyed his daily drives around his neighbourhood and his morning coffee at the corner store with his friends. He especially enjoyed his longer, weekend drives to places like Mahone Bay with the love of his life Margaret Rose.
He will be remembered for his kindness, understanding, always being there for family and friends, his sense of humor and his shared memories and stories of when he was younger. He will be dearly missed by all especially his 2 grandchildren whom he thought the world of, Jacob and Issac.
Arrangements are under the care of J. Albert Walker Funeral Home (2005) Ltd. As per his wishes, there will be no service.