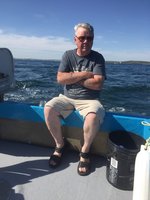 Daniel "Danny" Darrah
With deep sadness we announce that Daniel William Darrah age 74 passed away peacefully Friday, April 16, 2021, afternoon at the Queen Elizabeth II Hospital (Cardiac Unit) in Halifax. Danny was born in Herring Cove, the son of William "Bill" Darrah and Sarah "Sal" (Reyno).

Survived by his loving wife, Joan M. Darrah; son, Brian; daughter, Tammy; granddaughter, Megan McLean; great grandchildren, Sylas and Cyniah. He is also survived by brother, Charlie. He was predeceased by sister, Jane Pelham.

Danny was a fisherman at heart and loved being out on a boat whether it be fishing or cruising. He fished as a kid with his father and family in Herring Cove, with his son and daughter in New Brunswick, and in retirement he enjoyed jigging Mackerel and spending time on the Sambro Wharfs. When not fishing he loved boating with the love of his life Joan (wife of 50 years) on their boat "Joan 'N' Aye".
Danny worked as a Pipefitter and Sprinkler Fitter (Local 213) for 25 years. He enjoyed building projects, he built 2 homes and a large garage from the ground up. After Hurricane Dorian decimated his wharf and shed, Danny was determined to build a wharf that would withstand the rage of future hurricanes. He took on what would be his final project with friend John and they built a wharf that he (and we all) believe will survive the test of time. Danny was loved by his family and friends and will be forever remembered.
We would like to thank the all the staff at the Queen Elizabeth II Hospital (Cardiac Unit) on the 5th and 7th floors, they were very accommodating and compassionate.
Cremation has taken place under the care of J. Albert Walker Funeral Home (2005) Ltd.