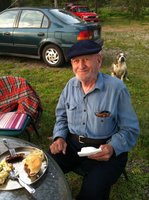 Donald James Hollett
95, passed away peacefully at home in Bedford, NS, surrounded by his loving family. He is survived by sons: Wayne, Keith (Karlene), daughters: Donna Foley (Peter), Edna Oakley (Wayne), Sharon Buggie (Brian), grandchildren: Billy, Tina, Marjie, Sylvia, Ronnie, Jennifer, Patrick, Missy, Julia, Jamie, Timmy, Keith, Robbie, Jayme, Kelly, Holly, Sherry, Terina, Amanda, Josh, Trevor, Ashley, Rhonda, Amanda, and many great-grandchildren and great great-grandchildren. He was predeceased by his beautiful wife Florence Aileen Hollett (Hartlen), sons: "Junior" Donald Joseph, Robert, and twin sons in infancy Peter and Paul, daughter "Linda" Josephine, grandsons: Ronald, Terry, and Jordan.
As he would often say "God has more of us now than who are left, all part of His great plan". Our home will never be the same without our loving father and grandfather. He was full of wit, humour and playfulness until the very end. He loved the smiles and reaction to his antics. He was full of life, very talented, and a natural born entertainer. He did it all with such ease, from playing guitar and singing, to dancing, writing songs, and reciting poetry with great charm. He had zeal for life, great love for his family, and hope in the Lord Jesus. He was a man of faith and in the end, he said he was ready for Jesus to come for him. At long last, he will miss his dearly beloved wife no more.
Arrangements have been entrusted to J. Albert Walker Funeral Home Ltd (2005), 149 Herring Cove Road, Halifax, where family and friends are invited to gather on Thursday, April 22 from 11am – 1 pm. A Mass of Christian Burial will take place on the same day at 2 PM from Stella Maris Parish (formerly St. Michael's Catholic Church), 6 St. Michael's Ave, Halifax, NS. Subject to Covid-19 regulations, only 85 people can be in attendance, therefore registration is required. To register go to www.stellamarishalifax.com, with interment to follow in the Gate of Heaven Cemetery.
The family of the late Donald Hollett (who passed on April 17, 2021) are holding a reception at the Dingle Canteen, Saturday July 24, 2021 from 2-4pm. Hope to see you there.