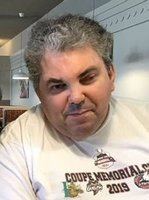 William Edward "Billy" Grant
At the age of 53, Billy passed away after a short, unexpected illness on May 17, 2021. Born in Cape Breton, Oct. 13, 1967 on his father's birthday, Billy was the sixth of seven kids.
He was a quiet, creative boy with dimples and blonde curls. Billy survived a tragic accident in his teens, which killed his brother Kevin and left him with a permanent brain injury. With quiet determination, unwavering support from his family, and a hospital visit from a young Wayne Gretzky, Billy recovered to live a full, meaningful life. Billy was a lifelong, fan of StarTrek and the Montreal Canadians. He loved animals. He had a quick wit and contributed obscure facts to every conversation. He never saw a movie or met a hamburger he didn't like. In 1995 Billy moved to Halifax with his late mom Irene and dad Bill, where he was able to work, volunteer and be involved in his community. Billy was an active member of St. John the Baptist parish. He worked for nearly 25 years with New Leaf Enterprises, and for nearly 20 years as an usher at the Metro Centre ("You mean Scotiabank Centre," he would correct you.) Billy was a charming, good natured and much loved member of his family.
Predeceased by brother, Kevin and mother, Irene nee Kearney Grant. Survived by his Dad and best friend, Bill; brother, Terry (Dolly) and sisters, Kathy Dauphney (George), Frances Grant-Feriancek (Shane), Wileen Grant and Joan Babineau (Rob). Uncle Billy will be missed and remembered by 12 lucky nieces and nephews. Erin nee Dauphney MacDonald; Simon, Nicole and Ian Feriancek; Rebekah, William, Luke and Haley DesJardins; Matthew Grant; and Tyler, Owen and Carly Babineau.
Donations in his name can be made to New Leaf Enterprises or Epilepsy Nova Scotia. A family celebration in his memory will be planned as soon as travelling and gathering is safe.
Arrangements are under the care of J. Albert Walker Funeral Home (2005) Ltd.