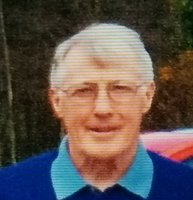 James Greig "Jim" Milne
83, Halifax, passed away on May 19, 2021 in Halifax. Born in Dundee Scotland Jim was a naval architect/engineer in the UK and Canada where he settled with his family in 1979, working with Irving Shipyard in Saint John and then Halifax Dartmouth Industries where he led the design team for the Halifax Shipyard before his retirement in 1994. Jim led an adventurous life travelling the world with his job and family. He was an avid golfer, who always said he could do better - a trait he passed along to his daughters teaching them to always strive for more.
He is survived by his wife of 57 years Myrete, his daughters Moira (Garth Crowell, Three Mile Plains) and Christine (Boston), and his 5 grandchildren, Mike Crowell (Debbie,), Matt Gates (Jodeci) Hannah Gates, Laken Crowell and Julia Crowell. Cremation has taken place and no funeral will be held. A private memorial will be held at a later date. In lieu of flowers donations can be made to the Red Cross or the Heart and Stroke Foundation. The family wish to thank the staff at Melville Gardens for all the care, love and support they gave us and Dad for the past 2 years.