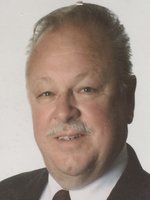 Garry Gerald Newcombe
It is with great sadness, at the age of 78, the combined family of Garry Gerald Newcombe announce his passing on May 19, 2021. He is survived by his wife of 37 years Diane Newcombe, Middle Sackville, NS; Daughter Tina Melanson, Tantallon, NS; Stepdaughter Lesa (Clinton) McPhee, Bear Island, NB; Stepson Michael Miller (Lorrie Meehan), Middle Sackville, NS; Granddaughter Brianna McPhee, Bear Island, NB; Granddaughter Haley Melanson, Tantallon, NS. Garry was born on July 25, 1942 and resided for some time in Pleasant Point NS, and eventually moved to Dartmouth as a teenager to finish his education. Once he graduated, he started to work in the printing industry. He worked his way up in the business and received his certification as a Lithographer, of which, he was very proud of this fact. Over the years he became the Production Manager and had over 50 employees under his supervision. Also, during this time, Garry started his own printing company, Canway Graphics, which he worked at in his free time. When he left Lawson Graphics, he then worked at Canway Graphics fulltime. Garry and Diane moved their business to Spryfield in the early 90's. Garry created and published a local community newspaper called the Mainland South Newspaper. This featured many local businesses and local interest stories. During this time, he was the member of the Spryfield Lyons Club, Spryfield Police Advisory Board, and the annual Spryfield Santa Claus parade, to name a few.
Those who knew Garry would say that he was larger than life, always had an opinion (he was always right), and that he always knew something about every subject. We would call him Mr. A&E. This was a running joke with us. He loved to travel, go camping, play the guitar and sing (he had a great voice), and take long drives. His idea of a day drive was to end up in the United States, as they did a few times over the years. They eventually purchased a travel trailer to tow with their van. Over the last few years, they enjoyed travelling around the Maritimes, along with their dog Buddy, who Garry loved spending time with.
Garry was predeceased by his son, Terry Newcombe; Mother, Muriel Acker (Slauenwhite); Stepfather, Malcolm Acker; Father, Gerald Newcombe.
He will be missed by all of us.
In lieu of flowers, you can make a donation to the Diabetes Association of Nova Scotia in Garry's honour.
Due to the Covid-19 restrictions, there will not be a public viewing. A private burial will take place in Pleasant Point, NS for 5 family members only.
There will be a gathering for Friends and Family at a later date, once it is safe to do so.