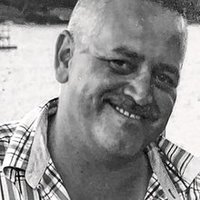 John Lyle
It is with great sadness that we announce the passing of John Lyle in Halifax on May 29th.
He was the son of the late Martin and Eileen (Cameron) Lyle. He was predeceased by his brothers Sandy, Wayne and Bernard. He is survived by his wife Devon Marie Lyle, son Johnathon Lyle, and step-children Summer, Haley and RJ Oakley, as well as Angie Morgan and Joanne Parker. He is survived also by his siblings Mae (Bruce), Martin (Heather), David, Deanie (Bruce), Michael (Serena), and Earl (MaryEllen) and many nieces and nephews.
John, a kind man and great friend, was known affectionately by many as "Too Clean." He had a boisterous personality and was known for being a good-hearted prankster, always up for a laugh and being the light and energy in any room. He was extremely generous with his friends and family closest to him and would give the shirt off his back to anyone who needed. He made sure the people he loved knew it and he will be greatly missed by his large and extensive family and friends across Nova Scotia and Cape Breton.
Cremation has taken place.