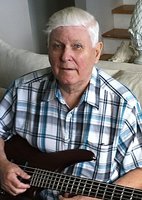 Frank Stirling Duggan
It is with heavy hearts that we share the sad news of the passing of Frank "Lindy" Sterling Duggan, on May 31, 2021, in Halifax, NS. He was 89 years-young.
Son of the late Frieda (Marryatt) and Gordon Duggan. Frank was a longtime employee of The Chronicle Herald, until his retirement in 1987. For much of his life, he was an avid hunter. He greatly enjoyed venturing into the wilderness, as well time spent at his camp during hunting trips, with family and friends. Frank was also a talented musician who played guitar, fiddle, banjo, dobro, steel guitar, mandolin, harmonica and keyboard, as well as a gifted singer. Frank played in several bands, entertaining countless people, throughout his lifetime.
Frank is survived by his two sons: Gordon Duggan (Rose) Lower Sackville, Danny Duggan (Marie) New Ross; two daughters: Pauline Bell (Tim) Maitland ON, Donna Duggan (Allan) Williamswood; grandchildren: Angela, Gordon, Chris, Jonathan, Jeremy, and Alex; and several great-grandchildren. He was predeceased by, and now reunited with the absolute love of his life, wife, Vera (Henneberry) as well as his son Dennis. Frank was also predeceased by his brother, Don.
Due to Covid restrictions, no service is planned at this time. Internment date and place to be determined.