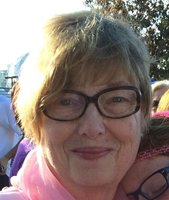 Carolynne Grace Wallace
Carolynne Grace Wallace (Roberts)
February 8, 1943 - July 5, 2021

It is with great sadness that we announce that our dear Mamma and Grandma – Carolynne Wallace – passed away peacefully with her daughters at her side on July 5, 2021 in Halifax, Nova Scotia.

Carolynne was born in Chilliwack, British Columbia, on February 8, 1943, to Ernest and Grace Roberts. She grew up in Chilliwack where she made life-long friends who remained an important presence in her life. In high school, she was the Honoured Queen of Job's Daughters. After finishing high school, Carolynne went to the University of British Columbia (UBC) and graduated with a Bachelor of Arts degree in 1965. While in university, she spent her summers at Radium Hot Springs where her parents owned the Radium Hot Springs Hotel. Following graduation from UBC, Carolynne was a flight attendant with United Airlines until her marriage in 1966 to Brian Wallace. She then taught school in Coquitlam before starting a family. West Vancouver became home after her marriage and there she raised her two daughters. Carolynne returned to teaching in the 1990's and moved to Lions Bay, BC, where she loved the natural oasis.

Summer holidays in Naramata were a special time for Carolynne and her family at both her parent's house on the lake and at Naramata Centre. At Naramata Centre Carolynne took pottery classes and became an accomplished potter. She was a pottery instructor (hand building) for many summers throughout the nineteen-eighties and nineties. Her love of contemplative practice and retreat experience grew through those same decades and subsequently became a commitment to other places of retreat like Rivendell and the Hermitage on Bowen Island. She also became a practitioner of Healing Touch and generously gave her time to anyone who needed healing.

Carolynne moved to Halifax, NS, to be close to her daughter, Alison, and her granddaughter, Zoe, shortly before COVID confined us to our homes. Carolynne was diagnosed with pancreatic cancer in May 2021 but faced this diagnosis with courage and clarity. She spent her final days with her daughters and granddaughters and died peacefully at home as was her wish.

She is survived by her daughters Michelle (Don) and Alison (Todd), and three grandchildren Olivia, Charlotte and Zoe.

Carolynne lived her life with a fiery spirit and always sought to have a heart filled with love. She will be forever missed.

A graveside service will be held on Friday, August 12, 2022, at 1:00pm at Chilliwack Cemeteries (10010 Hillcrest Dr, Chilliwack, BC).

All who knew and loved our mom are welcome.

In lieu of cards and flowers please consider a gift to Naramata Centre or Rivendell Centre.