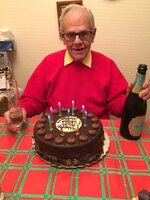 John Howard "Johnny" Strong
1927 – 2021
Halifax, Nova Scotia
It is with a heavy heart that we announce the passing of John Howard Strong (Johnny), P.Eng., 93 of Halifax, NS on September 18, 2021 at Victoria General (VG) Hospital in Halifax.
Johnny is the son of the late Ralph and Hilda (Mader) Strong.
Johnny is survived by his loving wife and best friend (of 67 years), Ruth (Bowen) Strong; sons, John Alan Strong of Key West, FL and David Andrew Strong (Anne-Marie Gosselin) of Montreal, QC; grandchildren, Lucca, Emma, Erik, and Patrick; sister, Frances Delaney of Dartmouth, NS; nephews, Tim, and Paul; niece, Nancy.
During the second world war, Johnny was too young to enlist, so he acted as a messenger to the air raid wardens in Halifax.
Johnny attended Saint Mary's University where he got a Diploma in Engineering, then went onto Technical University of Nova Scotia (TUNS) where he received his Engineering (Electrical) Degree.
Johnny worked for Maritime Tel & Tel for 35 years as an Electrical Engineer. Since his father and grandfather both died at age 60, Johnny took early retirement at 55 to enjoy what little time he might have left. Although he had a heart attack and subsequent quadruple bypass surgery, he was able to enjoy 35+ years of retirement until his passing at 93!
Johnny belonged to Parkhill United Church in Jollimore and was Treasurer of the church for a time.
Johnny had many hobbies: he enjoyed gardening, he was an avid reader, played bridge, an excellent swimmer, world traveler, stamp collector and enjoyed researching health and genealogy topics on his computer. While searching his roots, he discovered a connection to the Strongs who were the Master Masons that assisted Sir Christopher Wren who built Saint Paul's Cathedral in London, England and there is a plaque downstairs at St. Paul's that attests to this.
Johnny also believed in helping others, and gave over 75 Blood Donations, but had to quit due to high blood pressure.
During summer breaks, Johnny and Ruth often took the family to the US on vacation, usually to a cottage on Lake Winnipesaukee, NH. After his retirement, Johnny and Ruth travelled extensively throughout Great Britain, Europe (Scandinavia, etc.) as well as the South Pacific, and Australia. Johnny also travelled to South America and Africa with John Jr. In Peru and Ecuador, they explored Machu Picchu, the Amazon Rainforest, and the Galapagos Islands. In Egypt, Kenya, and Tanzania, they climbed the Pyramids, sailed a dhow to Zanzibar, went on safari in the Maasai Mara and camped in a tent on the Serengeti Plain ... during the migration .... with thousands of wildebeest, zebras, and gazelle stampeding around the tent all night long!
In later years, he enjoyed going to David and Anne-Marie's cottage on Lac Azur in the Laurentian Mountains of Quebec, where he enjoyed many peaceful and relaxing stays. Holidays there were a festive occasion, often with more than 20 friends and family around the dinner table.
Johnny has been cremated and looked after by Walkers Funeral Home on the Herring Cove Road. There will be no visitation or service, by his request. A private committal will be held later.
A special thank you to Dr. Kaillie Sutherland, Nova Scotia Continuing & Palliative Care, and VON organizations on their care and compassion.
In lieu of flowers, memorial donations may be made to a Charity of Choice.