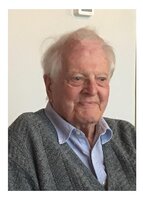 John Edward Hardman
It is with heavy hearts that we announce the passing of our dear husband, father, grandfather and great grandfather John, on October 30, 2021 at the age of 92. Born in Manchester, England, he was a son of the Late James and Lilian (Cox) Hardman.
John came to Halifax, Nova Scotia from England in 1966, but always remained a staunch "Brit". He came to do ceramic tile work on the extension to the VG Hospital, with his wife Sheila and their three children, Karen, Andrew and David. After the completion, he set up his own tile business, Abbey Tile.
Prior to coming to Halifax, he and his family lived in Blackpool, England, where Sheila ran a boarding house. Before that they lived in Perth and Melbourne, Australia. He always enjoyed traveling and could talk about almost any country in the world. He was a voracious reader and was a walking and talking encyclopedia for all his family. If anyone had a question, they would call Dad/Grandad. He also did the New York Times crossword "in pen".
He and his family enjoyed the early years in Halifax as members of the Bedford Basin Yacht Club, where they formed many friendships.
He was proud of the fact that his beloved family grew so, and, besides his 5 grandchildren and their spouses, enjoyed 8 (soon to be 9) great grandchildren.
John is survived by his loving wife of 68 years, Sheila, children Karen (Lee) Conrad, Andrew (Kim) and David as well as grandchildren Claire (Daniel) Filliter, Adam (Jennifer) Hayley, Ashley (Eric) Joy, Emily (David) Hatcher and Nicole (Dwayne) Purdy and great grandchildren Mikayla, Courtney, Elly, Isabel, Sloane, Elliott, Madelyn and Michael. He is also survived by siblings Yvonne, William, Nora and Robin.
Besides his parents, John was predeceased by his brother James; sisters Patricia, Joyce and Sybil as well as 5 children in infancy.
In accordance with John's wishes, Cremation has taken place. There will be no funeral service. A reception will be held in the family room at his residence, from 1 to 4 pm on Saturday, November 6. Arrangements are under the care and direction of J. Albert Walker Funeral Home, 149 Herring Cove Road, Halifax. Donations in John's memory may be made to Elder Dog Canada by visiting www.elderdog.ca.
The family would like to thank Dr. Von Maltzahn, Amanda Tinning and the staff at 9 Lane. And, to all the wonderful caregivers of Closing the Gap, thank you for all their kindness and compassion.
We'll miss you John;
Our dear Husband, Dad, Grandad and Great Grandad.