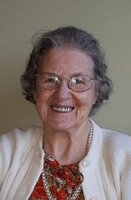 Evelyn (Pottle) Bond
It is with heavy hearts that we announce the passing of Evelyn (Pottle) Bond on November 22, 2021, at the Halifax Infirmary. She was born in Jobs Cove, Newfoundland and later moved to Nova Scotia where she met and married her husband of 52 years, Albert. She was the daughter of the Late John and Leah Pottle.
Evelyn's deepest love was for her family. Albert, Edna, Linda, and her grandchildren were the centre of her world. When she was with them they were always laughing, most of the time to the point of tears. Especially when talking about the video of her being stuck in the backseat of Mike's car. One of her favourite parts of visiting with her grandchildren was the "mandatory" selfie they always took together. Evelyn loved playing her accordion, particularly Newfie songs. She enjoyed sewing, knitting, and was heavily involved with her church, New Testament Baptist Church.
She was predeceased by her parents, her loving husband Albert, and sister Edna Pottle. She is survived by her daughter Linda (Robert LePine), Halifax; Honourary Son George Thorburn (Pam), Shelburne; granddaughters Meghan Thorburn, Shelburne and Melanie Thorburn (Mike Swaine), Shelburne; great-grandchildren Khloe and Layton.
Funeral Service will be held on Tuesday, November 30th at 1pm at J. Albert Walker Funeral Home. Burial to follow in Pleasant Hill Cemetery, Lower Sackville. Proof of double vaccination and government ID are required. Masks must be worn at all times. Funeral arrangements have been entrusted to the care and direction of J. Albert Walker Funeral Home, 149 Herring Cove Road, Halifax. Donation's in Evelyn's memory may be made to the Alzheimer Society of Nova Scotia. Messages and memorials may be directed to the Bond family by visiting www.walkerfh.com