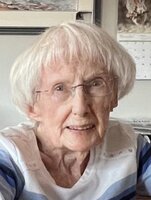 Shirley Mary (McNeil) Carpenter
Carpenter Shirley Mary (McNeil) Carpenter passed away peacefully at her home in Rockingham, Halifax, on January 2, 2022. Born on February 15, 1928, she was the daughter of the Late Ethel and Duncan McNeil. Shirley was predeceased by her beloved husband Joseph Vincent Carpenter, brothers Jack and Allan McNeil, sister Jean and daughter-in-law Susie Carpenter. She is survived by her seven children, Greg (Susie), Cathy Boyle (Russ), Carol Taggart (Ken), Joey, Michael, Jeff (Suzanne) and David (Ruth). Her 16 grandkids, 18 great grandkids and 1 great-great-grandkid will all miss their Nanny Shirley. She will be missed too by her "other sister", Theresa McNeil (Jack) with whom she shared so many precious moments.
Mom was a devoted wife and mother. She and Dad built a home together in Rockingham, where they lived for 72 years. They formed many lifetime friendships with neighbours and friends in the community. They were members of Our Lady of Perpetual Help Church and later Saint Benedict's Parish where mom was a member of the CWL. Mom was a devout follower of her faith and always relied on prayer for guidance in any area of trouble in her life.
Shirley was a stay-at-home mom. She taught piano to a number of young people, including many of her grandchildren. Her annual Christmas and end of year recitals were always a treat to watch and her students enjoyed her lessons. She also minded other kids after school and at lunchtime. She was an avid reader, enjoyed live theatre and loved spending summers at the cottage that she and Dad built in Seafoam. They often would take their grandchildren there for weekends; the kids have wonderful memories of beach combing, canoeing and campfires.
Mom was not someone who wanted to be front and center. She worked quietly in the background but she was always there for her children. She loved each of us unconditionally. She didn't judge. She accepted our choices, even when they were not necessarily the ones that she would have made. She had faith in us and she relied on her faith in God to guide her in helping us. We are all different people and she loved us for who we are. She is embodied in the words from Corinthians; "Love is patient, love is kind. It does not envy, it does not boast, it is not proud. It is not rude, it is not self-seeking, it is not easily angered, it keeps no record of wrongs. Love does not delight in evil but rejoices with the truth. It always protects, always trusts, always hopes, always perseveres. Love never fails."
We were very blessed to have had wonderful caregivers for mom in her final few months. Special thanks to Darlene Spicer and Rae LeBlanc who made mom's days and nights so comfortable and who brought laughter and joy to her. We could not have managed any of mom's home care without the unflagging help of our brother Mike (you just might be the favourite child now). The Palliative Care team and nurses and doctors at the Halifax Infirmary were very kind and caring. Special thanks to Jane Murphy for being a good and caring friend.
Funeral arrangements August 9 2022 at 12:15 pm at St Benedict Parish, reception to follow. Interment on August 10 at 2:00 pm at St Michaels Cemetery, Seafoam NS.In lieu of flowers, donations in memory of Shirley can be made to Chalice at www.chalice.ca/donate. Messages and memorials may be directed to Shirley's family by using the Tribute Wall located in the sidebar.
Mom and Dad you are always loved and will never be forgotten.
We miss you.