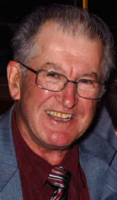 Harold Francis Buckley
It is with heavy hearts and great sadness we announce the death of Harold F. Buckley, Age 83, who passed away at home, with his family by his side, on January 7th 2022. He was born & raised in Halifax and lived in Timberlea. Son of the late Harold S. and Hilda Buckley (Gray). He is survived by his wife, Yvette (Drisdelle), of 58 years, son Peter Buckley (Jody Thibeau), daughter, Susan Dunlop (Jeff), granddaughters, Alexandra Woodworth (Shane) and Marissa Buckley (Brandon Barnett), grandsons, Kyle and Cohen. Brother, William "Billy", Hammonds Plains, Robert "Bobby" (Pauline) Shelburne. Besides his parents Harold was also predeceased by sister Helen Murray and brother Gerald "Dewie" Buckley. He will be greatly missed by all.
Harold started work at the age of 16, at McCullough's Building Supplies and then moved on to Guildfords for 40 years. He retired at 60 and then helped seniors and anyone who needed maintenance work done for the next 10 years. He was a very hard worker who loved to help anyone in need. Neighbors and even children came to him for his help. He was a social guy who loved to talk to everyone. He loved to be at his camp in Economy, NS. where he enjoyed his many toys, such as snowmobiles, motorbikes, 3 wheelers, ATVs, & was an avid hunter, of both small & large game. He loved to tell stories, especially to his grandkids. (Grandsons called him "Gump" and the granddaughters call him "Grampy"). He loved camping with his trailer to places such as Newfoundland, Magdalen Islands, all over NS, NB, PEI, USA. And also enjoyed travelling to Caribbean Islands, Cruises, and Alaska.
We would like to thank Dr. Robert Scovil for all his support and dedication, the Palliative Care Team and VON, for their assistance in making life for Harold a little better and Monica Flinn, RN, for her countless phone calls and direction for keeping Harold comfortable throughout his short illness.
Funeral service will be made at a later date. Donations can be made to the Cancer Society in Harold's memory. Fond memories and expressions of sympathy for the family can be made on the 'Tribute Wall' in the sidebar.