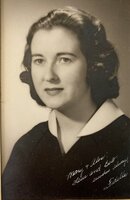 Fidelle MacDonald
With gratitude for her life and love, we share the news of Fidelle's death at home on January 25, 2022.
Sarah Fidelis (Fidelle) was borm April 24, 1939 at her parents' farmhouse in Creignish, Cape Breton. She was the youngest of Hector Hugh and Mary Kate (MacEachern) MacDonald's seven children.
She graduated from Mount Saint Bernard College (St. Francis Xavier University) in 1959 with a diploma in Secretarial Studies. She worked at Stora Forest Industries in Point Tupper and Province House in Halifax. After her children were in school, she became a real estate agent before returning to her secretarial career at NSLC Head Office until her retirement.
She was a lifelong supporter of charitable causes, lending her compassion and organizational skills to food, clothing and furniture collections, Sacred Heart Parish, St. Vincent de Paul Society, and the CNIB.
To meet Fidelle was to be drawn in by her gentle charm and graceful style. To know her was to learn of her humility, fortitude and steadfast good nature through all of life's challenges, qualities we will always recall and hold dear.
She was predeceased by her parents Hector Hugh and Mary Kate (MacEachern) MacDonald of Creignish, and all of her siblings (Charlotte, Angus, Mary, Alexander, Marguerite and Floyd); and by her dear friend Nola Mahon by only a few days.
She is survived by her daughter Mary Elizabeth; son Rhett, daughter-in-law Tracy, grandchildren Sophia and Caden; sisters-in-law Gerri (Voerman) and Joanne (Rankin) MacDonald; brother-in-law Robert Mazzocca; former husband Dennis and his family (brother Lewis, sister-in-law Maureen, sons Jamie, Alex Joe and Calum), who remember her with love and admiration.
She will be deeply missed by her cherished nieces and nephews and their families – the Steeles, MacNeils, Mazzoccas, Martins, Burridges and MacDonalds. She held a special place in her heart for her many godchildren and dear friends.
We deeply appreciate the compassionate care she received from her family physician Dr. Teliki, her oncologists Dr. Morzycki and Dr. Ddamba, and her palliative care team.
In lieu of flowers, please consider a donation to the CNIB or a charity of your choice.
Funeral will be held at St. Michael's Catholic Church in Halifax (of Stella Maris Parish) on Saturday January 29th, 2022 at 11:00 am. Due to covid restrictions, the service will be by invitation only but will be recorded and uploaded to the following site after the service: https://www.youtube.com/channel/UCbQ6o_1XHjnyVaeAqMPYGFw/featured
Memorial will be held at a later date in Creignish.