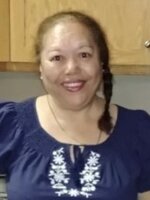 Dale Virgina "Day" Smith-Isnor
Dale "Day" Virginia Smith-Isnor
1953-2022
Dale Virginia Smith-Isnor "Day" passed away on the morning of March 17, 2022 at the QEII Health Sciences Centre - Victoria General Hospital surrounded by her family. Born in Halifax she was the daughter of the Late Stanley Arthur Smith and Madeline "Jenny" Virginia Smith- Poirier.
Dale was employed with Victoria Hall, the IWK and recently with home care. She will be remembered for being full of life and for her love of dance. Her family loved her very much and she will be sadly missed.
Dale is survived by her separated husband Albert Isnor; daughter Lisa (Andrew), and grandchildren Madeline and Logan; brothers Danny (Linda) and Bert (Ann Marie); nieces Tylene and Danielle, all of Halifax. Also surviving are aunts Martha, Marjorie (Henry), Doris (Percy) and Susan; uncles Ozzie and Michael(Pearleane), goddaughter Nyshelle, several cousins and family friend Deacon Layton Johnson.
Besides her parents, she was predeceased by her maternal grandparents Joseph Shepard and Martha (Walter Wyse); aunt Viola as well as uncles Ervin and Leo.
Cremation is taking place under the care of J. Albert Walker Funeral Home, 149 Herring Cove Rd., Halifax. Visitation will be held on Saturday March 26th, from 10 am to 12 pm which will be followed by a celebration of Dale's life which will be held in the funeral home chapel with Pastor Kadel officiating.
The family would like to extend their appreciation to all of the palliative care staff at the QE II health sciences Centre VG site - Floor 7-A for the special care they provided to Dale during her brief illness; and also to the Canadian Red Cross in this most difficult time.
In lieu of flowers, donations can be made in Dale's memory to the Canadian Cancer Society. Messages and memorials maybe provided to Dale's family by visiting the tribute bar to the left.