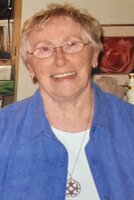 Muriel Smyth
It is with much sadness that the family of Mary Muriel Smyth, for most of her life a resident of Melville Cove, and for the last four years living at Northwood, tell of her passing on March 28, 2022.
Born in 1928 in Halifax, Muriel was the only daughter of the late Maude (Robson) and Herbert Wesley Smyth. She was predeceased by her brother Ralph Smyth.
Muriel worked for many years as a blood lab technician after which she used her strong science background teaching junior high students. During this time her teaching touched many lives and often was heard the statement,"Miss Smyth made Science come alive for me. She was one of the best teachers I ever had!"
During Ms. Smyth's many years of teaching she also took part in creating and writing a portion of the Science Plus textbook series which was widely published and used throughout Canada and educational markets in the United States. This publishing venture, created under the Atlantic Curriculum Science Project, was an alliance of science teachers sponsored by UNB that brought together many experts as a team working in the educational field, travelling together, and bringing their vision of science instruction to many teaching professionals.
Muriel had many interests outside the classroom. After much training in piano and voice she gave many hours to singing in choirs at All Saints Cathedral and St. James Anglican Church in Armdale.
She also spent time on the south shore of Nova Scotia in the summer studying and practicing painting with her Aunt Dorothy Smyth under the instruction of artists such as John Cook and Joan Dewar.
After her retirement from teaching she continued to work on the various new revised editions of Science Plus and joined the Nova Scotia Art College where she participated in an art discussion and research group, producing talks on various world artists.
Travelling the world was another hobby she pursued during retirement, packing her bags and heading to such destinations as Europe,America, Australia and other parts of Canada.
Muriel will be sorely missed by her niece Janet Smyth, husband Brennan, and great nephew Wesley Macauley, who she spent many hours with in Petite Riviere and Halifax. She also leaves behind her sister in law Nancy Smyth, her nephew Rick Smyth, her great nieces Kaylee and Raelyn Smyth,and close cousins Judy Mitchell, Heather Cowie, and Suzanne Valiant.
Cremation has taken place and an internment will be held at a later date. Donations may be made in her name to the Canadian Cancer Society or organization of choice.
Online condolences may be made using the "Tribute" bar on the left side the page.