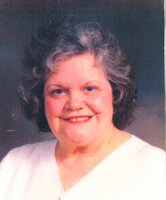 Amy Charlotte Mills
It is with a heavy heart that the family of Amy Charlotte (Simpson) Mills announce her passing, Wednesday May 18, 2022 at the age of 93 in her home surrounded by her family.
Born July 20, 1928, she was the daughter of the late Harry and Florence Simpson.
Mom was a loving wife, mother, mother-in-law, grandmother, great grandmother, sister and wonderful friend. She will be remembered warmly by all those who knew her. She had a beautiful spirit and warm loving heart.
Her family was her pride and joy. Throughout her life she loved to babysit her grandchildren and great-grandchildren. She also loved all animals especially cats (she rescued many of them), she loved listening to music, crochet and her favorite pastime was watching TV.
Mom loved to tell stories about her past and we loved to listen to her. She had a great sense of humor and could make you laugh when you least expected it. She loved to reminisce of days gone by. She grew up in the North End of Halifax, lived on Robie Street for many years, then moved to Cabot Street. Once she got married, her, Matt and her parents all moved to Old Sambro Road where she fell in love with this little white house on a beautiful spring day where she raised her family and lived for 66 years.
She loved her family who will miss her dearly. She is survived by her daughter Linda (Don) Thornhill, son Stephen (Ginette) Mills. Her grandchildren, Nadine (Mike), Marc (Marrianne), Luke (Vicky), Hayley (Darren), Jonathan (Nancy), step grandchildren Carmen (Maxime), Remi and her great-grandchildren Blake (Emily), Mason, Maggie, Layla, Fisher, Avery, Edmund and Libby. Sister Jean (Phil) Ellis and special niece Susan as well as her neighbors (friends) Richard and Angela.
She was predeceased by her husband Matthew F. Mills, beloved son Michael F. Mills, infant daughter Susan, granddaughter Michelle Mills and her brother George Simpson.
The family would like to extend their deepest thanks to "Always Home Homecare" caregivers: Joyce, Nnenna, Betty, Emmanuela, Nawa, Sadiya, Chioma, Ekjot, Brenda and all Amy's dedicated health care providers.
A Celebration of Life will be held at St Paul's United Church, 173 Old Sambro Road, Spryfield on Monday June 20, 2022 at 2:30 pm.
In lieu of flowers, donations in memory of Amy Mills may be made to Hope for Wildlife:
Hope for Wildlife
5909 Highway 207
Seaforth, Nova Scotia
B0J 2L0
902-407-9453
"If Roses Grow In Heaven"
If roses grow in heaven, Lord please pick a bunch for me,
place them in my Mother's arms and tell her they're from me.
Tell her that I love her and miss her, and when she turns to smile,
place a kiss upon her cheek and hold her for a while.
Because remembering her is easy, I do it every day,
but there's an ache within my heart that will never go away.