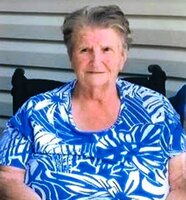 Anne Margaret Drew
It is with heavy hearts that we announce the passing of Anne Margaret (Meagher) Drew, 78, of Dartmouth NS on May 20, 2022.
Anne is survived by her loving spouse of 30 years, Dale Desmond, her children, Harold (Ontario), Robert (Liz) (Ontario), Corrinne (Ontario),
and Laurie (Felipe) (Nova Scotia). She is also survived by he grandchildren, Devan, Felipe, Brandon, Andrew, Samantha, Alixandra, Emma,
Hailey, Jorja, and Robert Jr., as well as her great-grandchildren, Ty, Owen, Nikolai, Abby-Gail, Landon, Rylee, Kenzie and Melodie.
Anne was known for her kindness never wanting anyone to be without, her heart was enormous. She will forever be in our Hearts!
"If Roses Grow in Heaven"

If roses grow in heaven, Lord please pick a bunch for me,
place them in my Mother's arms and tell her they're from me.
Tell her I love her and miss her, and when she turns to smile,
place a kiss upon her cheek and hold her for a while.
Because remembering her is easy, I do it every day,
but there's an ache within my heart that will never go away.
-Delores M. Garcia