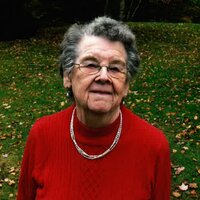 Eva Gertrude Garrison
Eva Gertrude (Marryatt) Garrison, April 25, 1928 - June 3, 2022
Born in West Pennant to Samuel and Melvina (Zinck) Marryatt. Worked at Moir's Confectionery before she was married. Predeceased by her husband Rexford (1999) and is the last surviving member of her family of 7 brothers and 6 sisters.
Survived by 3 children: Dale (June) Garrison, Astrid (Jim) Williams and Eric (Judy) Garrison; 7 grandchildren and 8 great grandchildren.
In keeping with mom's wishes there will be no visitation or church service. A graveside service will be held at St. James United Church Cemetery, Sambro, at a later date.
In lieu of flowers, donations may be made to St. James United Church, Sambro.
Online condolences: www.walkerfh.com