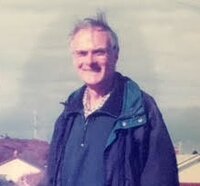 Edward Walter Duggan
Halifax
It is with great sadness that we, the family, announce the peaceful passing of Edward Duggan at The QE11, on Fri, June 24, 2022. Born in Prospect, NS, He was a son of the late Richard and Frances (Hardiman) Duggan.
Surviving is his loving wife, Katherine "Lorraine" Duggan, sons Wayne (Shirley), Barry (Sue), Shaun (Bonnie), along with grandchildren, Ryan, Caitlyn, Brittany, Jocelyn, twins Noelle and Adam, and his special great-grandchild, Violet, his little flower. Dad was the oldest surviving member of siblings, sister Jean, brothers Michael (Fran), and Joe (Valerie). He was predeceased by brothers Ronald (Joan) and Richard (Anita) and brother-in-law, Gerald.
Dad left Prospect at an early age, to move to the big city of Halifax for work, eventually being hired on with Maritime Tel & Tel in the Toll Office, North St, retiring in a management position in the Maritime Center with just under 40 years of service. The phone company provided him with a good life, good friends / coworkers. It was also where Mom and Dad met. July 4th would have been their 63rd wedding anniversary.
Even though Dad left Prospect, Prospect never left him. In 1967, he and his father built "The Cottage", where we all wanted to be whenever we could. His last road trip was there with family just a couple weeks ago. He used to spend as much time as possible up along the shore, picking berries and smelling the scent of the Heath, which is where he found his peace. He had a green thumb and loved to garden. He could coax almost any plant to grow most anywhere. He was most loved and will be dearly missed.
Donations in memory of Edward may be made to the charity of your choice.
Cremation has taken place. There will be no visitation. Interment will be held at a later date in Prospect, NS.