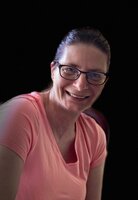 Simone Daniele Champion
CHAMPION, Simone Daniele (48) of Halifax
It is with great sadness that we, the family, announce the passing of Simone, At Hospice Halifax on July 4th 2022. Born in Grand Falls, Newfoundland, she was the Daughter of Paula Collins and David Champion.
She was loved by many. She was always creating something by crocheting or knitting. She could make pretty much any thing crocheting. She had a very creative mind and never forgot a birthday or any occasion if she knew about it she would be making something for you. She loved working as a CCA at Northwood and has met many friends there whom she loved and was loved in return.
Surviving are her Sons Cody Champion (Florida) and Matthew Roberts (Halifax) her daughter Samantha Roberts (Ottawa) , Peter Coleman (Halifax), Mother ,Paula Collins (Wilf, (Norris Arm North NL) Father, David Champion (Madelyn), Grand Falls-Windsor, NL) Sister, Juanita Champion (Dave) Halifax) Aunt Alma Gardner-Norton ( Halifax) Uncle Carl, (Butch), Halifax) and many family and friends near and far.
There will be a celebration of Life on Thursday July 7th at 2-5pm at J. Albert Walker Funeral home at 149 Herring Cove Rd, Halifax. If possible please wear something with purple as it was her favourite colour. This will be a small gathering of family and friends that have been invited here and a larger one will be held back in Newfoundland at a later date where she will be laid to rest with her grandparents.
Donations in memory of Simone can be made to Hospice Halifax on Franklyn Street.
Messages and memorials can be directed to the Champion Family by visiting www.walkerfh.com