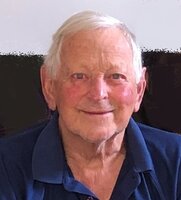 Stewart Clarence "Sonny" Parsons
Parsons, Stewart (Sonny) Clarence, of Spryfield
With heavy hearts we sadly announce the passing of our loving husband, father, grandfather, great-grandfather, brother and friend, Stewart "Sonny" Parsons aged 85. Sonny passed peacefully at home Friday 8 July 2022 surrounded by family.
Born in Halifax to Wallace and Vera (Murphy) Parsons on 17 Aug 1936. His family moved to Spryfield in the 1940's where he lived the remainder of his life. Sonny was a hardworking man right from his humble beginnings. He started working on a milk truck for Drysdale Dairy when he was very young, delivering milk to the people of Spryfield. From there he got a job at Woolworth's stocking shelves, then the Argyle Garage in downtown Halifax as a car parker. It was there he met the owner of the Halifax Herald Newspaper, Graham Dennis. They became very friendly and Mr. Dennis offered dad a job at the Herald as a pressman, where he worked the night shift printing The Mail Star paper and retired after 32 years. Sonny was always busy doing other things on his off time. He was one of the first recyclers in Halifax picking up bags of newspapers at the curb for some extra cash. He worked in demolition with Frances Brown for many years, gathering a lot of useful construction materials to add to his house which he built himself from a 3-room tiny bungalow that was originally down the street from where it now sits. Sonny was known for his great sense of humour and fast wit. He was very proud of his family. He was also very proud of his shed building and talked about it to anyone who would listen. Over the last 20+ years he took to building 8x8 sheds and baby barns. You may have seen one sitting on the corner lot of Herring Cove Rd and Sussex St "For Sale". He constructed 159, the last 7 he built when he was 83 (quite a feat for an old guy!).
Sonny will be missed by his loving wife of 63 yrs Veronica (Sampson) Daughter Kim and Sons Kevin (Barb) and Don (Debbie). Grandchildren: Christopher, Jordan, Lara, Jennifer, Melissa, Caitlin and Sidney. Great-grandchildren: Dorian, Chase, Summer, Greer and Blaire. Siblings: Blossom Graves, Nancy Graves, Shirley Schnare, Douglas Parsons, BettyLou (Bill) Petite and CarolAnn (Carl) White. Sister-in Laws Theresa Kyte, Anna (John) MacDonald and Joyce Roy. Many nieces and nephews. Neighbour and best friend Vlado "George" Ostarcevic.
Besides his parents and Mother in Law: Mary Viola (Hanlon) Sampson, Sonny was predeceased by Sister in Law: Paulette Parsons and Brother in Laws: Gerald Graves, Donald Graves, Doug Schnare, Robert Kyte and Joey Harris.
Special thanks to Dr Jock Murray for his wonderful care over the years. Also, to palliative team Dr Dempster and Nurse Cindy Bell and a big thank you to Courtney Harvey for making dads last days "Heavenly". Thanks to MAiD and Dr Mandi Irwin for making dads last wish possible.