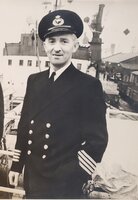 Harald Landmark Maro
MARØ, Captain Harald Landmark

This remarkable man passed away at the age of 105, with his children and grandchildren keeping constant vigil by his side until he passed peacefully September 3, at noon, the end of his Captain's watch .
Born in Aalesund, Norway in 1917, one of 10 children, he followed the family tradition and went to sea in his mid teens.

At the start of the second world war Harald joined the Norwegian Merchant Marines to support the allied forces. Both of the ships on which he served were torpedoed and sunk by the Japanese Navy. He and the crew reached the island of Java where he was injured by gunfire and soon taken prisoner. He remained a prisoner of war until the Japanese surrender 3 1⁄2 years later. When he eventually made his way home, he surprised everyone as the Red Cross had listed him as lost in action. Emaciated and in poor health was told by doctors that he should not expect to live past 50 years of age. Apparently, he disagreed.

He moved to Canada in 1950 to be the Master of the M/V Theron, newly built for the seal hunt on the east coast of Canada.

One of his proudest accomplishments was successfully bringing supplies and personnel safely to Shackleton Base to establish a base camp for the Trans Antarctic Expedition in 1956. At that time his ship held the record for being the deepest into the Antarctic and Arctic Oceans.

His time at sea was often for extended periods making his limited time at home precious. Being at "camp" with family and friends was always his favorite pastime. He loved woodworking, making additions, improvements and small furniture.

He is predeceased by his wife, Randi, survived by his son Harold K. (Lyse), daughter Reidun Holley (Brian), daughter Marilyn I. McLaughlin (Lloyd), Daisy Greene (joined our family in 1960 as housekeeper becoming part of our family), many grandchildren and great grandchildren.

Cremation has taken place. A memorial will take place in Harald's home on September 27, 2022 at 4:00 pm.