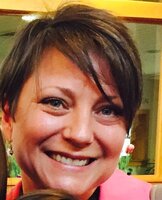 Susan MacDonald - Messinger
It is with broken hearts that we announce the passing of Susan, age 51, on September 5, 2022, at the Victoria General Hospital, Halifax, NS. Susan is survived by the love of her life, Frank Messinger, and beloved daughter, Georgia Mae Messinger; her mother, Rhoda MacDonald; siblings, Frank (Cindy) MacDonald, Charlene (Sheldon) MacDonald-Clarke, Kathy (Dave Buffet) MacDonald, and Bobby MacDonald; special family friend, Doug Hollet; and many nieces and nephews. She was predeceased by her father, Donald MacDonald; and brothers Gary and David MacDonald.
Susan devoted her career to TD Insurance, where she spent 24 years, holding many positions, including her most recent, Business Process Officer. Susan's capacity to love and to help others succeed was one of her greatest accomplishments.
She was a bright light, and if you were fortunate to know her, you were in for the ride of a lifetime. She possessed many talents, including painting portraits, decorating, singing, playing guitar, storytelling and especially making others laugh. She was an avid gardener and collector of all things. She loved camping and attended many outdoor concerts and folk music events, where she was in her element.
With her philanthropic nature, she shared her many talents by encouraging and teaching others to find their own creativity. She taught many to play guitar, to paint, and to spot a bargain. She possessed a giving nature and a desire to help those in need and did not back away from a challenge. Susan had the ability to help others to reorient their lives and to find a clear path to success. She touched everyone who knew her deeply, and if she stood by your side, you were in the best hands.
Susan's family and friends adored her. She enjoyed visiting her extended family in Philadelphia at every opportunity, and hosting visitors at her home. She had the ability to make people feel welcome and loved. She was one-of-a kind, as rare and as fine as a bee's wing.
A special thank you to the nurses at the QEII, and Tammy at the Palliative Care Unit, VG Hospital, who lovingly cared for Susan.
A visitation will be held at J. Albert Walker Funeral Home, 149 Herring Cove Rd on Sunday, September 11, 2022, between 1 – 4 pm, which will conclude with a Celebration of Life in the funeral home chapel at 4 pm. For those unable to attend the chapel service, it will be livestreamed at the following link at service time (registration is required): https://event.forgetmenotceremonies.com/ceremony?c=16c688a9-09b5-40a4-96bd-b14ad697bf84
Donations in her memory may be made to the Canadian Cancer Society or the J.L. Ilsley High School, Art Department.