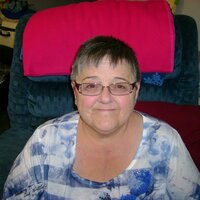 Rita Kathleen "Kathy" Derengoski
DERENGOSKI, Rita Kathleen (MacDonald) – 71, of Halifax passed away peacefully at the Halifax Infirmary on September 13, 2022. Born in North Sydney, Cape Breton, she was the youngest child of the late Bernard and Annie (Lyle) MacDonald. She is the last surviving member of her immediate family. Kathy as she was known by, is survived by her loving son, Walter B. and loving daughter, Jennifer. Kathy was predeceased by her loving Husband Walter J, as well as her older brother Charles (Bridget Power) and older sisters Bernice, Sharon (Bill Long), Elaine (Daniel MacKinnon) and Marilyn. She was also survived by many nieces and nephews.
Kathy was a trained hairstylist until she dedicated her life to raising her two children.
She was active in the PTA for Central Spryfield Elementary and later B.C. Silver Jr. High, where she also worked as a lunch monitor.
Kathy was also the program director of a Thursday after school youth bowling league at Spryfield Bowlarama, providing fun and putting smiles on hundreds of youth bowlers for 29 years.
Kathy enjoyed speed skating in her youth, and in her later life enjoyed travelling and going to bingo with friends. She was always hosting friends and family at her home, while serving as the official doorperson for her cat Oreo.
However Kathy's favourite activity above all else, was telling everyone how proud she was of her two children: Her daughter who dreamed - and became - a Registered Nurse at Nova Scotia Health Authority, and her son who dreamed - and became - a member of a fighter squadron in the Royal Canadian Air Force.
Arrangements are under the care of J.A. Walker Funeral Home, 149 Herring Cove Road, Halifax, N.S. (477-5601), where visitation will continue as scheduled on Friday, September 23rd from 2pm onwards, and concluding when inclement weather arrives.
Due to the impending storm, the service of remembrance and burial have been POSTPONED UNTIL FURTHER NOTICE. Future service details will be posted here when available. Messages and memorials can be sent to the family by visiting www.walkerfh.com.