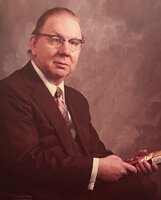 Colin "Scotty" McEachern
McEachern, William Donald Colin "Scotty" --Halifax, Nova Scotia
Colin grew up in Kingston, Ontario with brother George and sister Elsie, children of Donald and Marie (nee Paterson) from Glasgow, Scotland. He completed his BA at Queen's University, MSW at University of Toronto, and made his career in social work. He counselled the blind, veterans, struggling couples, led London Ontario's Family Services Bureau for twenty years, facilitated amalgamation with the Children's Aid Society, and led human resources at London's Family and Children's Services for fifteen years. Colin was instrumental in establishing a model outreach program at the East London Crouch Public Library, a project he found especially meaningful.
Colin was a devoted husband to his love, Melba, with whom he recently celebrated 71 years of marriage, and he was a devoted father to his four children. He was dedicated to community, giving attention especially to Elmwood Avenue Presbyterian church, to the London United Way, and to very many friends. Together with Melba, Colin maintained many enduring friendships from childhood, classmates from a year at the Brantford School for the Blind, university comrades, professional colleagues including those from a sabbatical in Britain, still more at church, the many relatives on both sides of the family, and among neighbours wherever he lived. These friendships and family, including six grandchildren and three great grandchildren, were all paramount to him through retirement years.
Colin reveled in his Scottish heritage, played blues, boogie-woogie, folk and sacred music on the piano, loved boats, home and garden maintenance, and listened closely to radio for news, music, and baseball. In his 99th year, he knew his time was up, and let go peacefully, and the world quietly lost this gentleman.
Surviving are wife, Melba (nee Baird), children Malcolm (Janice), Bonnie, Cameron (Sheila) and Isla (David); grandchildren Brock (Natasha), Eleri, Niall, Carly, Kyle, and Skye; and great-grandchildren Hayden, Carson and Korbin.
Funeral 11 a.m. Friday September 23rd, 2022 at J. Albert Walker Funeral Home, 149 Herring Cove Road, Halifax.
Messages and memorials can be directed to the McEachern family by visiting walkerfh.com