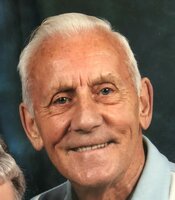 Ronald Rudolph "Ron" Smith
Smith, Ronald Rudolph: 95, Halifax, formerly of Spryfield, passed away peacefully at St. Vincent's Guest House, Halifax, on Sunday, November 6, 2022. Born in Halifax on March 31, 1927, he was a son of the late Douglas and Mary (Neary) Smith. Ron was raised in Kline Heights and lived most of his life in Spryfield with his loving wife, Noreen. He worked at Sears in the mail order department, from where he retired in 1984 after 41 years. Ron and Noreen loved to travel, starting with drives around the province with family and friends. They were then on to tenting at campsites, having travel trailer adventures, and enjoying the "camp" in Jeddore. Ron enjoyed being around the water where he would fish, and especially loved to swim. He then found a passion for cruise ships, and he and Noreen took many trips together. Many nieces and nephews were taken on these early camping trips, and later great nieces and great nephews had many overnight adventures at the Smith's. Family was very important to Ron, he loved hosting family gatherings, most importantly the Boxing Day celebrations that happened every year at their home. Ron was full of life, a bright extremely kind, and caring spirit with a beautiful smile who will be missed by everyone who knew him. Ron was a dedicated parishioner to Emmanuel Anglican Church his entire life. He was active in the Church as a greeter and loved singing in the choir. Ron is survived by his loving wife of 66 years, Noreen (Westhaver), numerous sister and brother in laws, nieces, nephews, great-nieces and great-nephews. He was the last surviving member of his immediate family, as he was predeceased by his brothers, Clyde, Les, Lawson, Donnie, Robert "Butch", and David, his sisters, Lillian, Margaret, Viola, Doris, Marion and Elizabeth "Betty", and an infant sister, DeeDee. Cremation has taken place under the care of J. Albert Walker Funeral Home (2005) Ltd.
A celebration of Ron's life will be held on Thursday, November 17, 2022 at 11 AM from Emmanuel Anglican Church, Herring Cove Road, Spryfield, with a reception to follow. Interment will be in Emmanuel Anglican Church Cemetery. In lieu of flowers, please make donations in memory of Ron to Emmanuel Anglican Church.