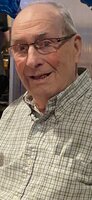 Wilson Kearley
Captain Wilson Kearley (1927-2022)
Wilson Kearley passed away November 15, 2022 at the QEII. Born in English Harbour East, Newfoundland.
Wilson was a Captain in the Fisheries Industry for many years. A man well-reknown for his skills and mentoring of others. He always looked out for his crew. He also loved to travel to his home of Newfoundland (of which he was tremendously proud), as well as to visit his daughter in British Columbia. He also loved hunting and fishing but there is nothing he loved more than his family.
Wilson loved dearly, and is survived by, his daughters Annie Owens (Dennis), Roberta Merson (Bob) and Wanda Whitman (Trent), 9 grandchildren, 17 great grandchildre, 1 great-great granddaughter and "like-a-son-and-daughter" Patrick Hickey and his wife Lorna.
He was predeceased by his wife Elizabeth, daughter Mary, parents Robert and Anna (Clarke) Kearley, brothers Bill (Anne) and Robert; sister Phoebe (Lorne) Savoury.
A Celebration of Life will be held on Saturday November 19th, 2022 at 11:00 a.m. at St. George's Round Church, 2222 Brunswick Street, Halifax, NS.
Online condolences may be made at: www.walkerfh.com