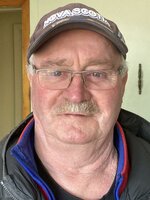 John Patrick Dempsey
It is with profound sadness that we announce the passing of John Dempsey, who was the heart of our family. He passed away suddenly at home on November 20. Surviving are his wife of 53 years Bonnie (Iceton) and sons Darrell (Caralea) and Ian (Carolyn) and grandchildren Devyn (AJ), Dillin (Crystal), Emma and Molly. Also surviving are his sisters Paulette, Sandra (Mark), Connie (Brad), Patti (Paul), Diane (Andy) and his only brother Kenny and brothers in-law Stephen (Nina) and Jimmy (Sandy) and sister in law Louise and many nieces and nephews whom he loved dearly.
He was predeceased by his parents Patrick and Lillian Dempsey, and in laws Bruce and Mary Iceton and brothers in law Danny, Stan and Robert.
Johnny was a hard-working man who spent 32 years at Dept of Transportation and then started his second career as school bus driver for 22 years. He always loved driving the kids to school.
Years ago he spent time with his family camping at Green Valley campground singing along at the campfire. He was a lifetime member of the Purcell's Cove Social Club where he enjoyed many dances and playing pool with his friends. He often enjoyed taking Bonnie on boat trips around the harbour, often including his mother in-law Mary. He also took yearly trips with Bonnie to Cape Breton or weekly Sunday drives. He spent many years at the rink either watching or helping coach his sons and also became a huge supporter of Dillin's hockey and cheering on granddaughters Emma and Molly during ringette games. He loved to fish and hunt and going to hunting camps with close friends.
His greatest pride and joy were his grandchildren whom he adored. He spent many years four wheeling in the woods with Darrell and Dillin and also taking their antique cars to the shows together. He also enjoyed taking Ian and his children out mackeral fishing where Emma and Molly would try to out fish Ian and often did. He also spent a great deal of time helping Ian working around their wharves and enjoyed the annual lobster cooking with him at Christmas time in his garage.
He loved his wife, sons and their whole families dearly and he will be forever missed and will never be forgotten.
Visitation will be held Sunday November 27th from 6:00-9:00 pm at J. Albert Walker Funeral Home, 149 Herring Cove Road, Halifax.
Funeral will be held on Tuesday November 29th at 1:30 pm at Stella Maris Parish, 6 St. Michael's Avenue, Halifax. Burial to follow at St Philip's Cemetery, Purcell's Cove Road.
Reception to follow at the Purcells Cove Social Club.
"Johnny, I will miss and love you forever, my precious husband. Thank you for our wonderful lives together". Love Bonnie