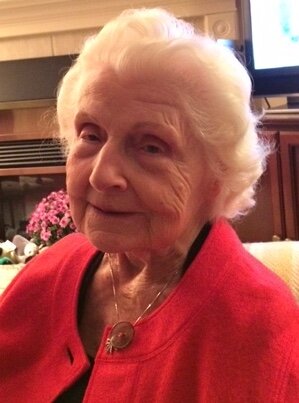 Obituary of Katharine A. B. Derrick
Anne Derrick and her family want to express their heartfelt thanks for the lovely tributes to Katharine.
These messages and reflections have meant so much to us and
we will return to them to bring a smile to our faces and a warmth to our hearts.
Thank you.
Katharine Derrick (Boog-Watson) died peacefully at home on October 5, 2021, at the age of 101.
Born in Edinburgh, the only child of Dr. Robert Boog-Watson and Kate Winnifred Lundie, Katharine developed tuberculosis and polio in infancy and was not expected to survive. She learned French as her first language in a Swiss sanatorium and then returned to Scotland to a regime of cold baths to strengthen her fragile health. After schooling in England, Katharine studied at St. Andrew's University before World War II broke out and she joined the Women's Royal Naval Service. Serving in London and Oxford she met a charming young teacher, John Derrick, at a party. They married in Edinburgh in 1944, not knowing if they would see each other again as John, in the merchant navy, sailed on unarmed convoys hunted by German U-Boats. The war's end led to a move from Edinburgh where their son, Michael, was born, to Oxford and a degree at Balliol College for John. In 1948, John, Katharine and Michael left for Canada, and were processed through Pier 21. They moved frequently from 1948 to 1960, with John teaching in private schools in Vancouver and Ontario, briefly going to Barbados, then returning to Balliol, and sojourns to teaching positions in Ontario and New Brunswick. Daughter Anne came along and the family settled in Windsor, Nova Scotia, where in 1960 John became headmaster of King's College School (and later, in addition, Edgehill School for Girls). Katharine embraced life as the headmaster's wife and was an integral part of school life, teaching French and tutoring. She and John loved the deep and affectionate ties they formed with their "old boys and girls". From 1973 they lived in La Have while John taught at Bridgewater High School, affording them an opportunity to forge lasting connections with BHS students. In the late 70's Katharine taught English as a second language and formed a special bond with Hung Van Huynh who remained close to Katharine throughout the rest of her life.
Katharine excelled at making and keeping friends. She loved lively conversation, travel, classical music and opera, and being active. She had a positive outlook and ready sense of humour. She was a dedicated volunteer. She remained a fiercely loyal and proud Scot. She made a remarkable adaptation to society's many changes, developing liberal sensibilities and maintaining a keen interest in current affairs.
Katharine was a generous and loving "Kitty" to her three granddaughters, always concerned about their happiness and well-being. As age shrank her world, she thrived on the visits, calls and cards of friends and family. The final five months of Katharine's life were brightened by the visits of Judy Caines and Susanne Willett, Aurora Ulloa, and Hung. Her family are especially grateful to Katharine's dedicated, long-time carers, Kim Sullivan and Marilyn Marshall, and to Dr. Shalini Veerassamy, her peerless family doctor, each of whom contributed to Katharine's high quality of life. Cindy Bell with Palliative Care, also deserves special mention, as does the Victorian Order of Nurses.
Katharine was predeceased by her beloved John, son Michael and daughter-in-law, Genia, and is survived by her devoted daughter, Anne Derrick, her partner, Archie Kaiser, and their three daughters, Elspeth, Catriona and Freya. Cremation has taken place. There will be a celebration of Katharine's life next year. Donations can be made in her memory to Adsum House for Women and Children or the VON Halifax or a charity of choice.