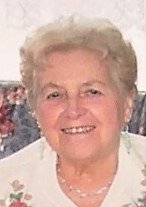 Obituary of Iris Marie Alguire
Age 91, of Halifax, passed away May 31, 2018 at Melville Lodge. Born in Halifax, she was a daughter of the late Ezekiel and Fanny Scelena (Bradbury) Pippy.
She is survived by children, Carl (Wendy), Linda (Robert) Cook, Leonard (Lynn), William, Timothy (Christine Dorey) and Todd; brother, Robert (Beverley); 21 grandchildren; and at least as many great-grandchildren as well as many nieces and nephews. Iris was predeceased by husband, Meral; daughter, Merle and all but one sibling.
Arrangements are under the care of J. Albert Walker Funeral Home (2005) Ltd. 149 Herring Cove Rd. where a visitation will be held Thursday June 14 from 6-8 p.m. A Service of Remembrance will be held Friday June 15 at 12 p.m. from the funeral home chapel, Rev. Anne Hoganson officiating. Reception to follow. Interment to take place in Pleasant Hill Cemetery Lower Sackville. In lieu of flowers, donations may be made to any medical research charity.
Proudly Serving the Halifax Community