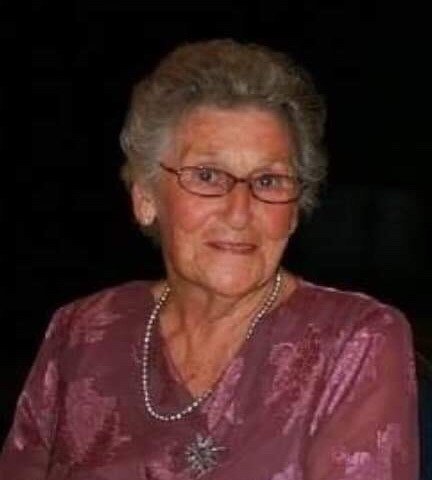 Obituary of Dorcas Wallingham
It is with great sadness that we announce the sudden passing of Dorcas "Dot" Rebecca Wallingham (Pearce), age 93. Dot passed away on November 26th, 2018 at the Halifax Infirmary, where she had only been for one short week. Sadly, it was the month following losing her beloved husband of 72 years, Robert "Bob" Wallingham. We believe that Dot was truly heartbroken from losing Bob after so many years of unity.

56 years ago, Dot and Bob built their first home together on Olie Street in Spryfield; and raised 8 beautiful children. Dot had great joy raising her children, and often said the more children you have, the less work it is for the "Mom". She had a love of crossword puzzles and often would fire off random questions to Bob, and together they could easily solve them. Dot swore by a glass of brandy a day; said that it helped her arthritis and helped her have a good long life. In 2008, Dot and Bob moved to Bedford, closer to their daughter Julie, to enjoy a quieter lifestyle.
Dot is survived by four of her eight children, Julie (Gordon Flemming) of Bedford, Donna (Craig Archambault) of Surrey BC, Robert (Martha) of Beaverbank, Gregory of Victoria BC; as well as granddaughters, Cara, Jill, Kristin, Nancy and Lisa; grandsons Keith, Steven, David and Robbie, and great-grandchildren, Keigan, Cameron, Carlie, Mya and Kingston, all of Halifax. She is also survived by her sister-in-laws, Shirley Tocher of Maple Ridge, BC, and Maggie Wallingham of Whitehorse, YT.
Dot was predeceased by her parents, Julia and Isaac Pearce of Grand Bay, NL; beloved husband Robert; sons, Gary (Carolyn), William, Richard (Jacklyn) and David (Georgina); brother, Llewelyn Kettle; sisters, Ada (Jim) Buttery, and Dulce (George) Gillam. Dot said that losing her boys so young added years to her and Bob's lives.
Arrangements are under the care of J. Albert Walker Funeral Home (2005) Ltd., 149 Herring Cove Road, Spryfield. In keeping with Dot's wishes, there will be no visitation. A private service for family, extended family and church family will be held on Saturday, December 1 at 1:30 pm in the funeral home chapel; Rev. Michelle Bull officiating.
"Those who we love don't go away, they walk beside us everyday; unseen and unheard, always near, so loved and missed, so very dear."
Proudly Serving the Halifax Community