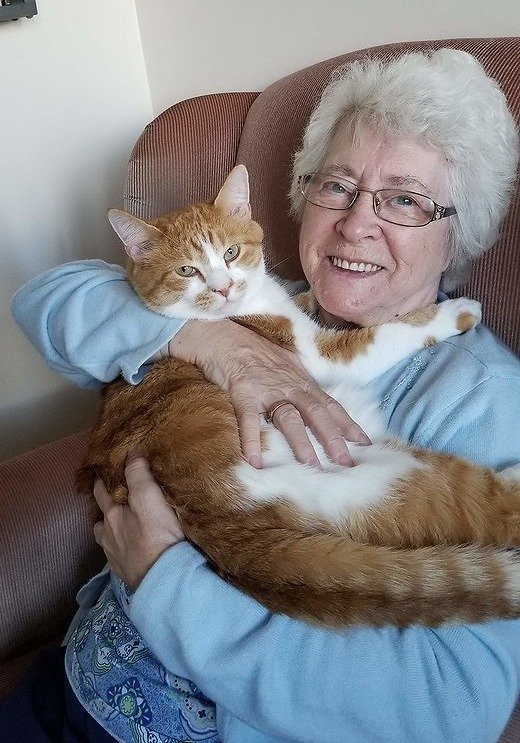 Obituary of Gladys Elizabeth Ryall
RYALL, Gladys Elizabeth (nee Dinn)
During a glorious sunrise on the morning of March 9, 2020, in her 92nd year on this earth, Mom was lifted by the angels to be with her Lord and Saviour, and to reunite once again with all those who have gone before her. Gladys was a devout Catholic, and was firm in her belief of everlasting life.
Gladys was born on January 9, 1928 in St. John's Newfoundland, to Leo Joseph Dinn and Millicent Aphra (nee Vere Holloway). She was predeceased by her parents, husband Frank, son Nick, sisters Joan and Ruth, brothers James and Leo, sons-in-law Robert Power and Scott Murphy.
Gladys spent her working life at home as a mother, grandmother, and great-grandmother to her very large family. Her exceptional mothering skills were not limited to her own family, as she was known as a second-mom to many kids in the neighbourhood. There was always an extra kid at the dining room table, but who could tell with a family this large? Her compassionate heart was also shown to injured animals we would carry home for her to nurse back to life. She loved all creatures!
Gladys was a miraculous homemaker who could cook, clean, sew, and constantly renovate the home with new paint and wallpaper. She was a talented baker and made all her children's wedding cakes. If there was a cause for celebration, Gladys was baking a themed cake, and decorating the house from top-to-bottom. No calendar event went unnoticed.
Gladys was a truly remarkable woman. A master of nurturing children in every stage of their development. She could change diapers, assist a toddler with walking, help a preschooler learn their ABCs, review homework and report cards, discipline unruly pre-teens, and console young broken hearts all in ONE DAY, such was the age span of her large family.
For all her nurturing, all bets were off when it came to playing card games. Mom enjoyed a robust game of cards and would take no mercy on you.
Mom taught us many life lessons, and raised her children to be compassionate, honest, tolerant, and kind. While she will be dearly missed, her legacy will live beyond in the sixty-four direct descendents she leaves behind. She is survived by her children Lorraine (Laurie), Nick's wife Susan, Gail, Valerie (Les), Francis, Debbie (Foster), Noel (Joan), Lori (Mike), Mary (Karl), Mercedes, Sam, Michele, Jackie (Rod), Leo (Cherie), David, Doug (Cathy), Sean (Danielle), and Tracey (Darren); Grandchildren Jim (Shelley), Patrick, Michael (Lia), Kelly, Tanya (Jason), Angela (JP), Krista (Jonathan), Lindsay, Michael, Melissa (Steven), Sarah (Keenan), Samantha (John), Ian (Marie-Eve), Shaunessy (Jesse), Katie, Nic, Rebecca, Allison, Mandy, Jamie, Jacob, Ryan, Jenna, Madison, Quinn, Olivier, and Abigail. Great-Grandchildren Aiden, Hayden, Emmy, Jesse, Julia, Benjamin, Anastasia, Elizabeth, Cameron, Dalayla, Alexa, Nathan, Alex, Alyssa, Gracie, Delilah, Lexi, Liam, and Aurélie; Nieces Donna, Joan and Millie; Nephews Harry and Albert.
The family would like to thank the staff of Northwood Ivany Place, Blueberry Hills, for taking such gentle care of our Mom, (in particular Leslie, Prince, Melanie, and Jordan; Gen, Lori, Joann and Suzy); sister-in-law Susan for making sure Mom's hands were always beautifully manicured; and sister-in-law Cathy for managing foot care, and for gently guiding the family through the vigil. You have our heartfelt thanks.
Funeral Arrangements are under the care of J. Albert Walker Funeral Home, Halifax.
Due to the concerns of the current situation globally of COVID-19, all visitation and service for Gladys
have been placed on hold until further notice. For further information, please contact the funeral home at 902.477.5601
or by way of email at ejennings@walkerfh.com. We urge everyone to continue to send on-line condolences to the family by
using our website www.walkerfh.com
Donations can be made to Hope for Wildlife, or charity of your choice.


Share Your Memory of
Gladys
Proudly Serving the Halifax Community